The Social Network DVD Review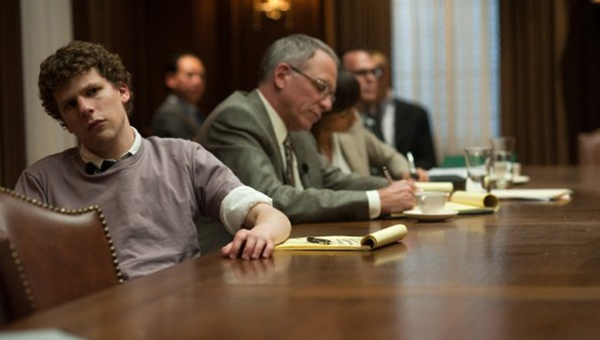 I hate facebook.
And pretty much all social media come to that.
Bunch of nonsense applications for people who can think of nothing better to do, other than write about what they are or aren't doing in their boring nine to five lives.
I say this is as someone who used to manage social media sites.
When you see your favourite musician logged onto their myspace / facebook / twitter page, chances are that'll have been someone like me.
Updating their mood and penning their latest thoughts.
For these people have actual lives to lead in the real world.
And I'll degrade myself in a variety of sadistic ways just so I can make rent.
So it was with a heavy heart that I went to see "The Social Network".
But not quite.
For as much as I hate facebook, I heart sharp scripts.
Seeing as Aaron Sorkin adapted the screenplay for The Social Network, I was pretty happy this box would be ticked.
But it's even better than that; you don't have to care about social media at all to enjoy this film, as it focuses on far more identifiable human emotions such as friendship, ambition and betrayal.
As with most classic film narratives, The Social Network is about a boy and a girl.
The opening scene conspires to illustrate the socially awkward nature of a young guy, locked in a painful conversation with his soon to be ex girlfriend.
This is Mark Zuckerberg; freshman among Harvard's 2003 intake, desperate for one of the more prestigious sorority's on campus to him to join up.
And soon to be founder of Facebook.
Burned by his recent rejection, Zuckerberg heads to his sanctuary of a computer screen and blogs about all the perceived flaws of his former paramour.
As the pain of this break up sets in, mirroring Zuckerberg's own drunkenness, he sets up Facemash; a site that invites the viewer to choose which girl is "hotter" girl, from a pair of headshots Zuckerberg has pulled from Harvard's online databases after hacking into their server.
Proving to his ex just how much she's missing out on.
This juvenile stunt earns Zuckerberg six month's academic probation, not to mention pariah status amongst the female contingent on campus, but also brings him to the attention of Cameron and Tyler Winklevoss.
These privileged and ostensibly loathsome twins have come up with an idea for an online Harvard sorority experience.
Impressed by Zuckerberg's now infamous stunt, the Winklevoss twins ask him to become the programmer for their embryonic site.
Swayed by their idea, but less so with their business proposal to him; Zuckerberg decides to set up his own website along similar lines, with the financial backing of his only real friend, Eduardo Saverin.
And lo, The Facebook was born.
Bringing with it more than its creator bargained for.
The Social Network establishes all this within the first act, so the film can focus on the human drama and emotion as the story unravels in the final two acts.
Which is wonderful for me – and anyone else with a life – because you don't need to be a part of facebook to enjoy and engage with the plot.
The cast is made up of talented actors rather than famous names and faces, which helps create a cinematic world you can believe in.
You're not watching a vehicle for some hollywood "star" to further their career path or bank balance, with the notable exception of one Justin Timberlake.
But then he's better known for his, ah, sexy back than his acting talents.
Sadly, Timberlake more than justifies his presence with a convincing portrayal of Napster entrepreneur Shawn Fanning.
The bastard.
Most impressive of the ensemble is Jesse Eisenberg, who plays the eponymous principle of The Social Network.
Eisenberg is almost a little too convincing as the socially inept yet brilliantly talented Zuckerberg; managing to stir feelings of contempt and pity for his character.
But the real star of the show is the script.
Sorkin is synonymous with the razor sharp dialogue of The West Wing, and flexes his scriptwriting muscles with some stinging rebukes and putdowns delivered by Zuckerberg.
Whilst these often stretch credibility, because you just can't imagine someone as awkward as Zuckerberg capable of such sharp social interaction with actual human beings, they'll also make you laugh out loud.
Naturally, it's difficult to say whether the characters and details portrayed in The Social Network are truthful.
And how many liberties were taken in the name of creative licence when dramatising events.
Amidst all the rancour, backstabbing and recriminations; one character in particular comes out looking like the good guy.
Which may indeed be an accurate reflection of what transpired.
Or may point to his part in providing source material for Ben Mezrich's: The Accidental Billionaires; the book from which this films screenplay was adapted from.
Still, whether you hate or heart facebook, The Social Network is a compelling film about the intricacies of human relationships we can all relate to.
Even those who choose to live online.
Jonathan Campbell