King Richard Review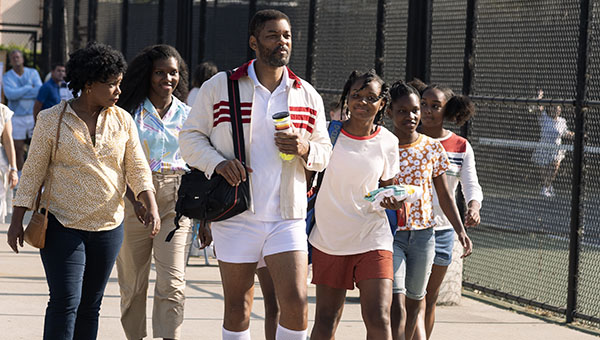 I tried out various sports as a kid. Everything from Archery to Zorbing. Well, actually neither of those, but it was a broad range.
I was largely unsuccessful; it turned out I much preferred munching popcorn in front of screens in darkened rooms.
Out of everything I tried, I retained the most fondness for the sport where love, famously, means nothing.
My mum is a big tennis fan too, and we'd spend many a Summer in front of telly watching Wimbledon.
See? Sitting in front of a screen, my preferred sport.
I was a bit sceptical when I heard of a forthcoming movie on the formative years of the legendary Williams sisters; mainly as I guessed that tennis would be a major focus, and I couldn't think of many, if any, good tennis films.
As it turns out, the film isn't really about tennis, and is all the better for it.
King Richard, named for the Williams sisters' father, opens with Richard Williams (Will Smith) trawling tennis clubs to persuade benefactors to sponsor Serena and Venus' training.
His five daughters are meanwhile pictured as quite content, despite the strained economic conditions of their upbringing and their father's stringent approach to life: he has mapped out Serena and Venus' tennis career paths via a 78-page book.
Like a tennis match, the film takes a while to warm up. It kicks into gear when Richard starts making headway with coaches, the first being Paul Cohen (Tony Goldwyn), which gives Richard's character something to bounce off, and we start to see the development of friction between Richard and the coaches, and between Richard and his daughters.
We then follow the Williams family's relocation to Florida so that the girls can be coached by Rick Macci (who isn't happy to see Jon Bernthal pop up in a film?), and the film culminates with 14-year-old Venus' match against Arantxa Sanchez-Vicario in 1994.
Although it features some thrilling tennis set pieces, I reiterate that the film isn't really about tennis. The main focus is instead on self-belief versus others' belief in you, which frequently segues skilfully into nuanced commentary on parenting and on racial equality.
One of the film's fieriest moments occurs, not on court, but in the driveway of the Williams' Florida residence. Richard and Rick nearly come to blows about Richard's attempts to avoid pressurising the girls, which arguably create pressure nonetheless.
Smith is predictably charismatic in the lead role but ,like countless biopics before it, the film throws off lines like "your son showed up out of nowhere" as an attempt to briefly acknowledge, but not dwell on, certain details.
Special mention also goes to Saniyya Sidney, who hits the perfect balance between charmingly modest and convincingly driven as Venus.
If you can ignore the thin, initial layer of Hollywood cheesiness, there is an important and vibrant film here about inner and outer triumph, and you'll likely be punching the air as the credits roll.
Conor Brennan