The Chemical Brothers At The Roundhouse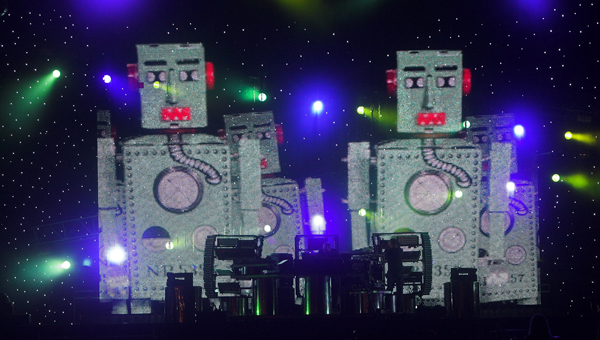 The brother's gonna work it out.
 
A popular refrain from an early Chemical Brothers hit, and a sentiment I hoped would ring true for me.
 
As a casual fan of Tom Rowlands and Ed Simons big, electro sound; I was looking forward to catching their live show at The Roundhouse but in a slightly detached way.
 
One of the great things about going to see an act you like rather than love is it frees you from any emotional attachment, affording a greater degree of impartiality.
 
Which isn't to say I wasn't eagerly anticipating catching the brothers chemical performing in the flesh.
Having built a reputation for their fierce live shows over the years, I was eager to discover for myself whether the boys could justify this.
 
After finally convincing the box office girl I wasn't some blagger begging press tickets and eschewed the attentions of an older chemical brother outside the venue, keen on trading some traditional camden goods for my ticket, I made my way to the seated circle.
I'm of the opinion that the best way to truly experience any concert is down there in the pit; with the rest of the thronged, sweaty masses.
 
But I was almost glad to be sitting above it all tonight.
It's no doubt a better way to observe a show in its entirety, and there was something almost regal about sitting up on high, watching the entertainment unfold beneath me.
Made me feel a little like Joaquin Phoenix in Gladiator; and anything that makes you feel like Joaquin is no bad thing.
 
The boys took to The Roundhouse stage to rapturous applause and quickly set about stamping their brand of ambiance on the night.
 
After easing the audience into their first musical movement, a ring descended from the ceiling to douse the revellers at the front in a jet of dry ice; sending the crowd in to a frenzy and setting the tone for a relentless opening act.
 
It was an assault on the senses from Rowlands and Simons, as first my ears took a pounding from the heavy dance sounds before huge tv screens, lights and lasers attacked my eyes.
 
At first, it was too much to take in; as if my faculties couldn't quite absorb all the information they were being bombarded with.
 
Yet everything seemed a little too calculated, a little too rehearsed; making the euphoric music feel cold and efficient.
 
Then, like one of those devilish magic eye pictures that starts to transform into a 3D image if you stare at it for long enough, something shifted.
 
As wave upon wave of stimulation crashed into me, my senses finally stopped resisting and just let go.
Letting the music wash over me, taking my mind to wherever the chemical brothers imaginations call home, I transcended time and space…
Ok, probably not.
But it felt really good.
 
And at least I learned how the brother's got their name.
 
The second half of the show was dedicated to the boy's most famous hits.
 
Hey Boy, Hey Girl even got the people in the upper tiers dancing around in their seats, before segueing into classics such as Out Of Control, Setting Sun and Saturate.
 
It would be churlish to complain that they didn't play all my favourite tunes, as Rowlands and Simons mixed their set up intelligently enough to send the punters home happy whilst keeping themselves well entertained too.
 
Although, after the euphoria of their first set, I found the more song oriented second act a little anti climactic.
 
There's something wholly less satisfying about experiencing music in a predictable and defined structure, as opposed to a more spontaneous and organic creature.
 
Of course, the reason I found the second set less engaging was down to the chemical stardust sprinkled over the first set.
One thing's for certain; the brother's sure worked me out.
Jonathan Campbell