The Ruby Suns At The Hoxton Square Bar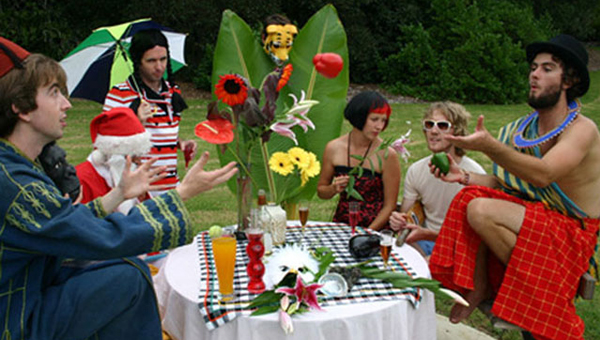 Here comes the summer.
 
So what better time for The Ruby Suns to bring their psychedelic brand of ice cream pop to our newly sun drenched shores.
 
This Kiwi threesome have bucked the trend of their native country's renowned national icon and taken flight for a European tour, showcasing their new album Fight Softly and a brand new sound.
Or at least that's what their MySpace page would have me believe.
I imagine some hard core Suns worshipper's would be able to give you a better insight than myself.
 
Tonight, the Ruby's are playing that staple venue for all up and coming indie bands touring London city; The Hoxton Square Bar.
 
The place itself is more than a little underwhelming; essentially a large wooden box at the rear of the venue decorated with a mirrorball and an oddly placed chandelier.
 
But it is square, there's a bar and they serve food.
 
So perhaps my expectations are to blame.
 
The audience largely comprises the stereotypical Hoxton set; identikit east London hipsters dressed up in plaid, imitation NHS glasses topped off with art school side partings.
 
And that's just the girls.
 
It seems most everyone who's turned up is here to be seen rather than to hear.
 
A couple of ordinary support acts play out time til The Ruby Suns take to the stage, all sporting ironic 80's white tees.
 
At least I think they're ironic.
 
Either that or stories about New Zealand being in a time warp are on the nose.
 
Seeing as the Ruby's are musicians, and I'm not Gok Wan, I decide to judge the guys on their sounds rather than their sights.
 
And it's hard not to warm to them.
 
The Ruby Suns conjure a wall of instantly likable, shimmering noise that swamps the venue; with samples, loops and sonic effects washing over the crowd as if one fluid sound.
 
In stark contrast to the earlier bands, The Ruby Suns have found the right chemistry in their singular talents that makes their music much more than the sum of its individual parts.
 
They're also a very tight knit live act; producing polished and defined songs that make you feel as though you're listening to a finished cut from a recent studio session.
 
But what at first endears the relatively new listener such as myself, soon turns into something of an achilles heel.
 
A few numbers into their set, The Ruby Suns immediately accessible music begins to grate as it becomes increasingly difficult to discern one song from the last; if not in the way they start out than usually by the time they've ended.
Still if you know what you like, and that happens to be consistently well crafted indie pop influenced by the suddenly renascent eighties – how on earth did that era become hip? – The Ruby Suns could be the summer band for you.
 
They just didn't shine for me.
Jonathan Campbell