Marina And The Diamonds At The Kentish Town Forum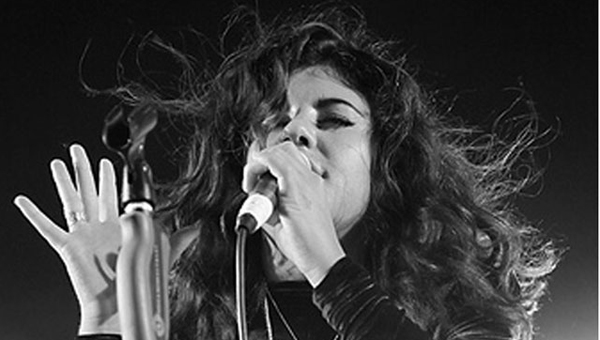 Diamonds may be a girl's best friend.
 
But it sure doesn't feel that way once Marina takes to the stage.
 
At a London venue formerly known as the Kentish Town Forum, Marina And The Diamonds – a moniker inspired by her Diamandis surname – wrapped up their final Burger Queen UK date to a packed auditorium.
 
Following on from their sold out show at The Roundhouse the previous night, Marina proved that her pulling power shines brightly in the nation's music capital.
 
Having only caught passing snatches of their most popular hits through MTV and the like, it's fair to say I was a Marina and the Diamonds virgin.
And a little uncertain of what to expect.
 
The raucous crowd around me sure seemed to know what was coming mind.
 
After her Diamonds had suitably pre warmed the venue; Marina took to the stage amidst a shower of wolf whistles, marriage proposals and declarations of love.
And that was just the girls.
The predominantly adolescent revellers around me seemed awestruck by the dark haired siren, prowling around her microphone like a cat looking for some attention.
 
This chanteuse of Greek heritage has clearly inspired a cult following in the wake of her musical odyssey.
 
With her stunning vocals and undeniable stage presence, it's easy to see why.
 
Marina has absolute conviction in herself and her singing voice.
With good reason.
 
As she stretches her vocal chords around opening tracks The Family Jewels, Girls and The Outsider; it becomes clear Marina can hit any note or pitch she cares for.
 
In fact, the only thing that can keep up with her voice is her ego.
 
Feeding off the adoration and energy of her fans, Marina struts around stage like a hyper sexualised Freddie Mercury in his theatrical pomp.
 
She's even taken the liberty of installing a fan – electric rather than human – underneath her microphone so as to blow her hair up and out whenever she sings from her mark.
 
With her long flowing locks billowing out behind her, Marina looks a little like a young Kate Bush pining for her Heathcliff.
 
And looks play an important part of a Marina and the Diamonds live show.
Whether it's the television screen pumping out stylised images and past hits, jiving platforms for the twin keyboardists who flank the stage or Marina's numerous costume changes to reflect the changing personality of her songs; numerous visual tricks keep the audience engaged.
Most memorable of which was a black cat suit, accessorised by a belt with flashing, neon heart and matching neon lips.
 
Strangely, for a performer who seems so aware of her sexuality, there's a childlike quality to many of Marina's songs.
 
There's almost an ice cream nature to her music; as if they were shimmering, sonic fairytales you'd feel comfortable telling your children at night.
 
It's a slightly unsettling paradox, at odds with the sensual performer who seems set on seducing the entire crowd with her sumptuous voice and feline theatricality.
 
Most of these contradictions are conjured from material written at an earlier age; by songs that no longer fit as well as some of those figure hugging outfits.
Yet for all the undoubted musical prowess that shines through Marina, her Diamonds fail to sparkle anywhere near as brightly.
 
The music is largely uninspiring and one paced, perhaps intentionally so; to provide a muted canvas from which Marina's vocals can paint ever bolder colours.
As people around me enthusiastically sung along to hits like Shampain, Oh No and the seemingly Regina Spektor inspired I Am Not A Robot; I found myself losing interest.
 
When restricting her Diamonds input, stripping back their involvement and accompanying herself with simple yet elegant piano music, Marina's solo interludes are able to cast their own bewitching spell.
There's a lyrical wit at play amongst Marina's songs, which hints of more magic to come once she's sharpened her thoughts to a more defined point.
The band bring down the curtain on their show with breakout hit Hollywood; complete with ticker tape parade, cheerleading outfit and a cheeseburger of Elvis sized proportions.
 
But it seems like just a matter of time until Marina shakes off her Diamonds.
And shines on through her unbreakable conviction of self.
Jonathan Campbell