An African Election Review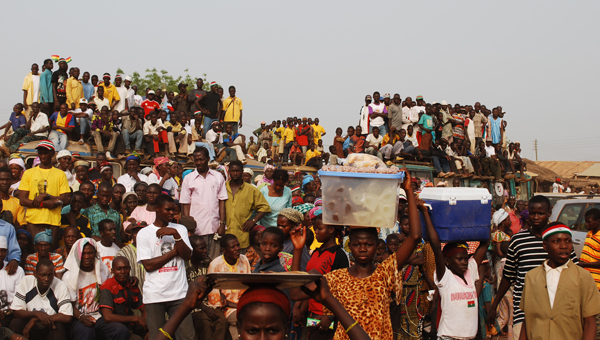 If you're anything like me, chances are there was only one political election you were aware of in 2008.
But if the scope of your political consciousness is a little broader than my own, perhaps you noted the tense and pivotal general election that took place 5000 miles from Washington D.C in West Africa.
Jarreth Merz's film, An African Election, takes as its subject what is essentially a two party fight for Ghana's ruling party in an electoral process recognisable to anyone familiar with our own political machinery.
As the first country in Sub-Saharan African country to gain political independence in 1957, Ghana's history has been turbulent to say the least. Former president Jerry Rawlings, who came to power himself in a military coup, calls it one of "constant terrorism".
That he makes this statement as his car crawls through a clogged street of anxious citizens, banging on his windows in both adoration and expectation, is typical of Jarreth Merz's documentary.
Indeed, the accumulations of the past are evidenced throughout; visible in the diligent and dogged manner of the rival candidates, who shoulder unspeakable burdens and voice oddly cryptic political slogans. "Are we going forward or are we coming back?" cries Atta Mills, the University of London educated leader of the left wing NDC party.
Both Mills and his rival Nano Akafo-Odo, leader of the NPP, are interviewed on camera, lending a candid authenticity and political objectivity to An African Election. Parallels with America's two party system are also explicitly drawn out by several of the documentary's other interviewees, with an "Atta Mills / Obama" placard jutting prominently skywards from a sea of supporters at one point.
However, any temptation to offer a simple-minded comparison is vetoed by a dramatic twist in events. This, followed by an alarming illustration of potential human error in the administration of a democracy, leads to earnest calls like "protect your ballot box as you would your mother!".
Elections aren't naturally exciting affairs, but if one thing can rouse the apathetic from their slumber it's the drama of a tightly fought presidential race featuring a genuinely decent candidate. It also happens to be the perfect material for a great documentary, and An African Election is certainly that.
Merz's film bears witness to the haphazard and determined flowering of a population striving to govern itself. It is a deeply compelling testimony, giving voice to subjective and opinionated views of Ghana's history whilst simultaneously offering a dramatic depiction of their contemporary struggles.
Most tellingly, this past is visible in the eyes of the Ghanaians themselves; who seem to be conscious of the significance of their own collective actions at every moment.
Apart from its fly-on-the-wall account of one of the most significant events in modern Ghana's political evolution, An African Election also functions as a concise first-hand history of this newly-hatched nation.
What's more, if your ignorance is as bountiful as mine and you don't yet know how things turned out, you might even enjoy some vicarious hope, elation or disappointment. Certainly you'll come away from An African Election better informed, and have another reason to call 2008 one of the more important years of our lifetime.
James Munroe