The Party Blu-ray Review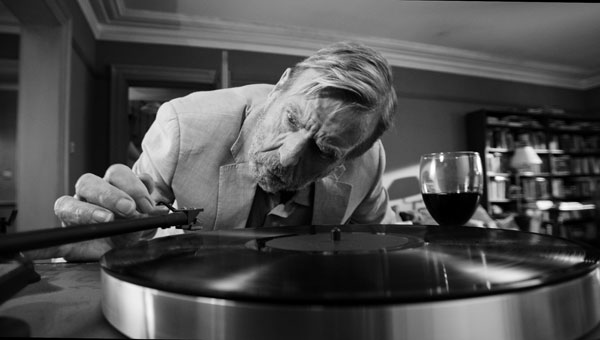 Shot entirely in black and white, Sally Potter's claustrophobic dark comedy The Party has the throwback feel of an old fashioned English comedy farce.
Following an opening credit sequence where Kristin Scott Thomas fires a gun at an unseen character, we join her in a suitably appointed kitchen in a fashionable London terrace.
Janet is throwing a small and tasteful soiree to celebrate her appointment as Shadow Minister for Health with her close-knitted circle of the metropolitan urban elite.
She potters around preparing starters, taking phone calls from the media, well-wishers and her lover. In another room her supportive husband Bill silently listens to his vinyl collection as the guests shuffle awkwardly.
April congratulates Janet whilst reminding her that politics is a complete waste of time, savagely mocking the clichéd self-help wisdom of her German partner Gottfried, a life coach.
Jinny and Martha announce the impending arrival of boy triplets, much to the unease of the non-carrying partner Martha, a feminist academic, who is struggling to come to terms with a life of bringing up boys.
Of course no Islington dinner party would be complete without Tom, the merchant banker, vacuuming his GDP of a developing nation sized annual bonus straight up his artfully dishevelled septum in the downstairs loo while awaiting the arrival of his wife Marianne, a close colleague of Janet's.
Although perhaps more unusually Tom, played by Cillian Murphy, is also concealing a gun and but not hiding a line in some rather erratic behaviour, causing anxiety with the other party guests.
Bill has an unexpected announcement of his own to make and in the ensuing melee the mood, like the canapés, turns charcoal black.
Fault-lines appear in the relationship of the celebrating couple, Jinny and Martha can't decide who the better feminist is, April continues to ridicule Gottfried new age psycho-babble and Tom retires to the downstairs loo for a dusty showbiz top-up as he awaits the absent Marianne.
Whist the dialogue of The Party is sprinkled with excellent one- liners and the action and performances always engage the whole thing feels a bit too knowingly farcical and slightly disorientating.
Each character is forced to deal with an issue, or finds themselves behaving in a way which is at odds with their beliefs, or their politics. As this assorted group of academics, professionals and experts are one by one forced to question previously deeply held principles it feels as if a wider point is being made about political life in contemporary Britain, post referendum.
As a much admired producer of British Independent film, Potter seemingly has had no trouble in attracting a stellar cast. Timothy Spall's all over it as the near-comatose Bill, a mere passenger in the
backseat of his wife's career whilst Patricia Clarkson's April relishes in delivering a succession of withering put-downs.
At only just ten minutes over an hour The Party is so short as to not really have any time to get to know any of the players. None of whom are particularly relatable, or even remotely likeable. Even when a compliment is made, it's from the back of the hand.
This does also mean that the story advances at such pace that the film always remains watchable and at times funny. So whilst being irritatingly frustrating, not least in its unsatisfying climax, at least this particular house party had the good manners not to overstay its welcome.
Frank Gardiner