Love Amongst Ruin At The Scala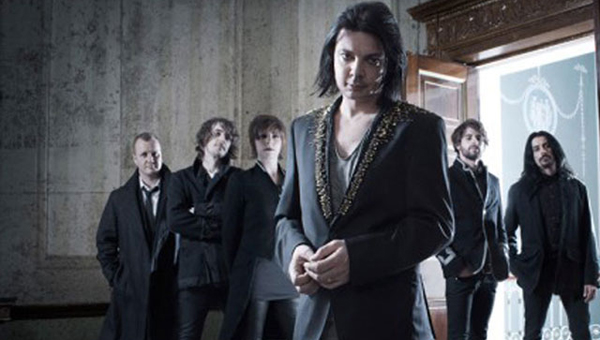 I'd been clean for four weeks, three days and seventeen hours…
But last night I snapped.
Venturing out into the King's Cross night, I received some sweet relief with a fix from Steve Hewitt's new band.
 
No placebo's tonight.
 
The drummer most famous for his rhythm's as an alternative music skinman has undergone a sort of musical rehab himself of late, reinventing himself as the lead singer of Love Amongst Ruin.
 
And following a sold out show at Camden's Barfly, his new group showcased tracks from their yet to be released or christened debut album at the Scala last night.
 
It seems jonesing for an even bigger high is something I have in common with Hewitt.
The renowned venue is an ideal space for up and coming acts with a buzz about them, balancing intimacy with massaging a band's ego, and there's an expectant air in the audience.
 
First up though, a truly wretched support act dressed in bastardised zorro outfits accessorised with neon masks.
 
Astonishingly, the band's sound comfortably manages to top their ill conceived appearance as they haphazardly weld the worst elements of identikit Ibiza tunes and noughties anthem rock together.
 
Imagine the Frankenstein offspring of Toca's Miracle Fragma and anything by The Killers and you'll get some idea of the horror on show.
 
Having retired to the Scala's bizarrely charming smoking pit to regain my senses, it's soon time for the real draw to take the stage.
Love Amongst Ruin are a sixpiece deeply wedded to Johnny Cash's staple clothing colour and open their set with their soon to be released eponymous single, So Sad.
 
As with so many heavy rock gigs, a wall of guitar noise renders any sound more subtle than a bass line largely irrelevant.
 
A few impromptu, yet family friendly, hand gestures later ensures at least Hewitt's vocals become more audible.
Eschewing the nasal, slightly fey styling's of a previous frontman who shan't be named; Hewitt seems to have settled on the classic "quiet verse, loud chorus" dynamic, which compliments Love Amongst Ruin's relentless sound rather well.
His occasional forays into theatricality on stage, however, feel a little forced.
As if playing frontman was thrust upon him rather than his natural state of being.
But onto the inevitable comparisons with Hewitt's former band.
Love Amongst Ruin has a darker and more introspective feel to Placebo, with the latter's trademark guitar riffs usurped by a harder edged sound.
As you might expect with six musicians in the line up, there's a fairly impressive array of instruments at any one time that vie for the audience's attention.
This often results in up to four guitars on stage during any given song, one of which felt crowbarred into the mix just so Hewitt wouldn't feel left out.
As well as a mixture of other instruments you wouldn't normally associate with such a fierce noise.
Unfortunately, Love Amongst Ruin never quite lives up to the rich promise the presence of a double bass, cello and maracas hints at; settling instead for playing mostly conventional rock music as loud as they possibly can.
As technically adroit and tight a live band as the posse of musicians Hewitt has assembled are, Love Amongst Ruin seem to be missing a little something.
I don't know what the french would call it.
But there's no faking it.
Jonathan Campbell