Win Win Review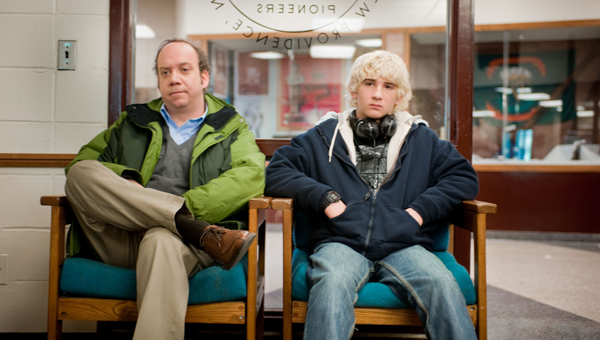 Cashing in.
That's one of the principle tenet's running through the heart of Tom McCarthy's offbeat comedy Win Win, and it's something I'd happily apply to the people behind this film too.
Mike Flaherty, played by uber everyman Paul Giamatti, is a decent man down on his luck. Struggling to make ends meet as a self employed attorney serving his local community, and with a young family to support, Flaherty takes solace by moonlighting as a wrestling coach at a local high school.
When elderly and wealthy client, Leo Poplar, shows up at Flaherty's practice exhibiting early signs of dementia, he sees a dubious solution to all his money problems. Having petitioned the court to become Poplar's legal guardian so he can remain in his own home, Flaherty promptly packs his client off to a residential home while making a quick buck from the old man's insurance plan.
As his money problems fade away, things start looking up for Flaherty. That is until Kyle, the son of Poplar's estranged daughter, shows up in search of his granddad and some refuge from his broken home life.
With no real alternative, Flaherty takes Kyle into his own home to provide a semblance of stability for this young man as well as protecting his less than altruistic actions; a decision that leads both of them on a journey of self discovery to find out who they really are.
Win Win is supposed to be one of those light hearted, left field indie comedies that leaves you feeling good about yourself, your fellow man and the world around you; but it never really convinces.
It feels like the story came from a scriptwriter's head rather than their heart; as if McCarthy cooked up a checklist of ingredients required of an indie flick du jour, ticked them off with conventions and actors familiar to this genre and expects this to be enough.
On paper, the ensemble cast looks pretty impressive; with Paul Giamatti recycling his downtrodden man shtick that brought him to mainstream attention in Sideways, Amy Ryan as his mildly domineering wife and matriarch of the family as well as Jeffrey Tambor providing his perfect comic timing as Flaherty's equally desperate business partner and wrestling coach Stephen Vigman.
Yet, neither the script nor the actors ever really draw you into the story or make you feel like investing in the variety of characters portrayed in Win Win and the emotions they're experiencing.
With the exception of silver screen debutant Alex Shaffer, who plays the role of Kyle with integrity, compassion and a great deal of heart.
And this is what showed up the rest of Win Win. It's all very nicely put together and isn't a bad film at all, but it just doesn't feel genuine.
Win Win isn't somebody's story brought to life through cinema, it's the work of a previously successful writer and director looking for his next pay cheque.
In a sense, there's nothing wrong with that. As with any other business, the film industry is all about making money and being profitable.
But when the genre you've selected to make a movie is defined by how authentic and realistic the events within are to real life, you better make sure the story is engaging and inspiring.
Otherwise what we're left with is a slightly hollow feeling, with no beautiful faces or special effects to distract us from the forced script.
Which seems like a lose lose situation for everyone involved.
Jonathan Campbell