Field Day Festival Review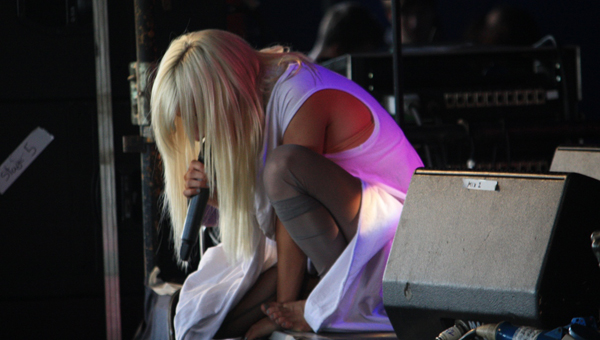 Another all-day festival, another breathless attempt to speed stage-to-stage, shoving kids with Bratwursts in hand for that ideal stage view. With seven or so stages and a few dozen bands crammed in one day, the Field Day extravaganza was meant to be as exhausting as it looked.
Well, in the beginning, us festival goers are always naïve enough to think that we can keep our priorities straight and go see the bands that really matter.
Then festival reality hits; catching The Horrors, Anna Calvi, Tribes and enough time to visit the loo in a little more than an hour is just not going to happen. And the fact that this festival shamelessly tried to profit from our desperate need for stage times certainly didn't help. If you spotted the guy that sold those little suckers, richer revellers could buy a "souvenir" line-up timetable for five quid. Otherwise you had to photograph or write down the info on the one and only mega board placed among a craze of carousels and food stalls.
But ignorance is bliss, which in my personal festival slang meant that while trying to unearth John Cale amid Field Day's chaos, I unexpectedly bumped into Darkstar under the Bloggers Delight tent. Not one of my so-called "priorities" up to that minute – and what a mistake that was!
The trio's debut "North" is a dark and decadent jewel that beams with frustrated dubstep beats, yearning synth harmonies and James Battery's self-abandoned, melancholic vocals. Just a few notes into "Deadness" and I was hooked.
A delight alright, a little while later the same stage hosted the full-blown talents of a Russian-American tornado called Zola Jesus. A petite blonde covered in white, Jesus – is that blasphemy? – delivered her indie goth chants like an angel possessed, running wild down the stage and dancing in ecstasy. Florence Welch minus her famous Machine was spotted watching absorbed among the crowd.
From the darkness of the mini Bloggers tent to the sweet daylight of the main stage where tons of festival goers bathed, it was finally time for those other beautiful ladies; Warpaint. They've been hailed as some sort of alternative super-girls in the Brit press and beyond; and hype is, more often than not, good cause for suspicion. Not in Warpaint's case though, even if I'd describe them in much humbler terms. Making the rock ritual dreamy and subconsciously addictive, a kind of mass indie hypnotism, is second nature for this LA quartet.
Near twilight I caught up with the dark Ms Calvi in the Village Mentality tent, which also doubled as shelter from the untimely downpour. The hustle and bustle just added to the low – the lowest! – quality of sound that eventually made her show unbearable. Frankly, I don't think there was anything much to squeeze for in the first place.
The same goes for the Horrors, sadly, who could have done better with the live rendition of their deservedly acclaimed third album Skying. Desperately in search of good sound, I was served up deafening bass form all sides. Worse than that, somehow The Horrors repeatedly come off as boring on stage.
A special mention must go to the almighty veterans who played Field Day too. If anyone rocked the festival mid-afternoon, that was The Sun Ra Arkestra; a bunch of men in their rock dotage dressed in flashy ethno-disco glitter, if such a thing exists, revived the Sun Ra legacy in the eyes and ears of younger generations. Cosmic jazz of the most charismatic kind was played out with high spirits, verve and jaw-dropping suppleness; that's what you call it when a percussionist suddenly starts pulling crazy acrobatic dances and near somersaults on the side.
As for the momentarily elusive John Cale, who succeeded Sun Ra later on the main stage. Cale was never the most obvious case of genius but, between his viola playing in Velvet Underground's Venus in Furs and his production credits in obscure masterpieces like Nico's Desertshore, there's no doubting he is one. He carried an imposing presence, spiced up by his low key sonic wisdom and cheeky electronic versatility.
All in all festival-wise, watching blindfolded people eat corn till they drop in a fierce Village Mentality competition at Field Day was good fun.
But if I ever miss Ariel Pink's Haunted Graffiti again, cause I'm too dizzied by a hoopla of faux-peasant stalls to spot a freaking solo timetable, I'm going to haunt that Field.
For good.
Words & Photography by Danai Molocha