We Were Promised Jetpacks At XOYO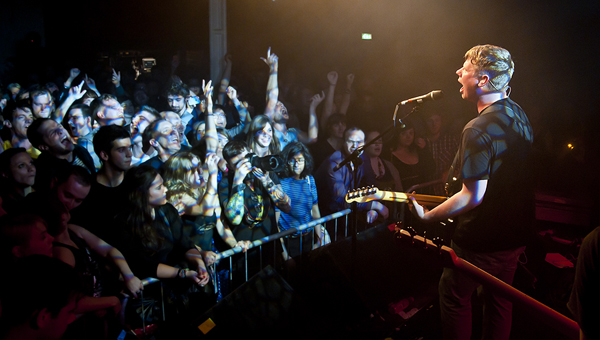 So I have it on pretty good authority that these young Edinburgh men weren't promised any such thing.
In fact, We Were Promised Jetpacks barely even care for their name.
Still, if this vibrant foursome continue their upward musical trajectory they'll have no need for jetpacks anyhow.
We Were Promised Jetpacks played the XOYO as part of their UK tour to promote their new album In The Pit Of The Stomach, and it's a fairly schizophrenic performance due in no small part to their mix of old and new material.
Having earlier partaken in the chesty delights of a nearby Bavarian beer house, I returned to the XOYO refreshed and ready as the opening bars of Circles and Squares thrashed out from the stage.
Following my late arrival to interview the band after numerous difficulties including but not confined to dodgy clocks, public health hazards on the streets of Islington and a slew of intellectually challenged fans ahead of me who seemed to have just learned they have opposable thumbs, I needed to cool my own jets.
Having never heard debut album These Four Walls, but recognised something in the earnest sound of their sophomore effort, I was half expecting a chalk and cheese show tonight.
And my suspicions were confirmed by guitarist Michael Palmer, who seemed almost embarrassed by their first record in comparison to how the new album sounds.
Even to my date's virgin Jetpacks ears, it was pretty obvious which songs were plucked from their initial LP, and which tracks were from the more realised and musically evolved In The Pit Of The Stomach.
And it wasn't just from the crowd's reaction, whose slightly muted response to new songs are a sign that some fans still need some to digest the new record.
Supported by a ground swell of noticeably Scottish compatriots, the masses roared along their approval to the numbers they knew and loved. And I'm sure they'll do likewise once they've become more familiar with the newer material too.
But if they don't, I hope it doesn't make a jot of difference to the path We Were Promised Jetpacks are taking.
Their older material is fine enough, but the simple arrangements and sing along choruses pale in comparison to the richer sonic experience In The Pit Of The Stomach displays.
None more so than the excellent Pear Tree, which builds from a familiar verse structure to a crescendo of guitar wails and sympathetic vocals via the obligatory quiet calm, which gives greater resonance to the musical storm that follows.
We Were Promised Jetpacks back to basics approach to making music, where they can play every song live exactly as it sounds on the record, it's exciting to think of the final destination these talented Scotsmen could arrive at if they keep creating music from the heart.
With or without the rocket science.
Words by Jonathan Campbell, Photography by Brendan Docherty