We Need To Talk About Kevin Review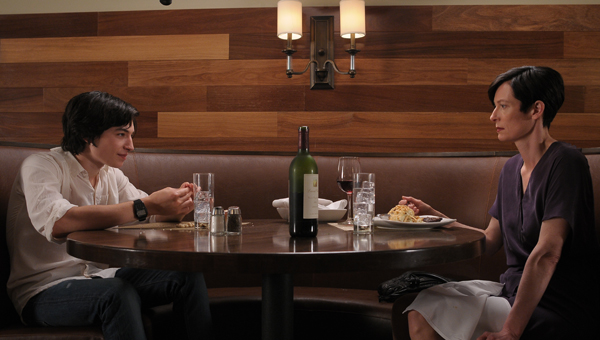 We need to talk about this film.
Not knowing anything much about We Need To Talk About Kevin, other than the buzz around it and the always interesting acting talents of Tilda Swinton and John C Reilly at its core, I went to see this with something of a skip in my step.
Boy was that a mistake.
We begin with a middle aged woman wearing a short dark bob taking part in La Tomatina, that infamous tomato fight of held in the Valencian town of Bunol.
This is Eva, a successful author who's visiting Spain as part of the research for her next book.
As the screen runs red with tomatoes, we flash forward to the present day.
Red paint has replaced rotten tomatoes, but red is still the dominant colour; only there's less joy in this expression and more hate.
Eva's short bob has grown out, so we know we're in the future now and those scenes of her with shorter hair are from the past and a different life altogether.
As we switch from Eva's past to her present, we see signs that something terrible must have happened in between these two realities to cause Eva's life to skew into a seemingly parallel universe.
As Eva grinds out a humble and mundane existence in the present, far from the adventure of her writing past, we catch flashbacks of her happier past.
We watch her meet and fall in love with her husband Franklin, for her success as a New York writer to grow and for her to have a son.
This is Kevin and he's a right little shit.
A little too literally in some cases.
From a baby, Kevin seems to make it his life's mission to torture his mother and play the perfect son for his father.
As Kevin grows, so does his contempt and disdain for everything Eva is.
Her husband, oblivious to what's going on under his own nose let alone roof, continues to protect his son at the expense of alienating his wife.
As Kevin hits adolescence, having been blessed by a little sister to add to the family, he begins to act out in ever more violent ways.
Will his parents pluck up the courage to finally talk about what's going on with their son, or will they let things fester until it's too late?
As I left the screening of We Need To Talk About Kevin, I was numb. I'd just watched a film earlier that day called Like Crazy which was full of love, hope and ultimately regret.
But it leaves you alive with the glorious possibilities life has for us when you open yourself up to the world.
Well, We Need To Talk About Kevin is the exact opposite of this; full of hate and negative energy that sucks your will to live.
The critical acclaim and even Oscar buzz around this film is what drew me to it without doing much research into what it was about, but it's based on the award winning book of the same name by Lionel Shriver.
Perhaps the book was written in such a clever and creative way that is was deserving of such acclaim?
I certainly hope so, because the message communicated and commercially profited from is horrific. I'd understand if this was based on actual events, and made as a cautionary tale for parents to look upon their offspring as not just their children.
But it's not, so it doesn't.
We Need To Talk About Kevin is executed in great style though; it looks great, the two leads are interesting enough, though there's absolutely zero chemistry between supposed couple Swinton and Reilly, and Ezra Miller as the grown up Kevin bristles with sinister malevolence through little more than the intensity of his gaze.
Of course none of this matters, to me at least, when the story you're telling is so negative that you cannot hope to engage with it.
So let's talk about the issues raised by the subject material raised by this film, and completely ignore We Need To Talk About Kevin at the cinema.
Jonathan Campbell