Anonymous Review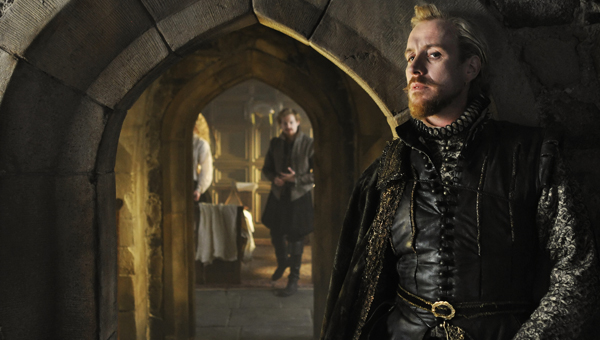 A writer and his ego are never easily parted.
Believe me, I should know.
Not only do I understand the inextricable link between the two because of my own hugely inflated sense of self, but I also get to handle other writers ego's on a regular basis.
Which is tremendous fun.
And as recompense in making their oft ham fisted turn of phrase coherent, I get to put their name at the end of my efforts.
*sigh*
Still would I, or any other writer, continue our pursuit of the written word if this accreditation failed to materialise?
Employing storytelling narration as its plot device, Roland Emmerich's Anonymous offers up an alternative identity for this isle's most famous body of written works.
Beginning in a theatre, our story begins in the Elizabethan era where the yet to be crowned poet laureate Ben Johnson has been arrested and inquisitioned under supervision from King James' most trusted aide, Robert Cecil.
Cecil is desperate to learn the whereabouts of a stash of manuscripts written by the 17th Earl of Oxford, Edward de Vere, but then so is Johnson in keeping their hiding place a secret.
To understand why Cecil is so keen on finding de Vere's unpublished works, we need to go a little further back into history.
And so we do.
Heir to the second oldest earldom in England, Edward de Vere inherited both riches and expectations when his father died.
Yet in spite of the efforts of Robert Cecil's father, William, to guide his newly fostered son towards a respectable vocation, Edward's inner muse desires just one thing; to write.
As a nobleman, however, the life of a playwright lies out of reach due to its association with some less than puritanical pursuits most writers indulge in for inspiration.
But when de Vere is taken to a teeming local theatre by one of his closest counsel, he spies an opportunity for his writing to be given a voice.
So de Vere arranges for the disgraced and now incarcerated playwright of the supposedly seditious comedy he's just witnessed to be released through his noble connections.
Upon having his freedom restored, the young Ben Johnson is invited for an audience with the Earl where he lays down one condition for his act of generosity towards the young writer; that Johnson stage all of de Vere's plays in his own name.
Doubtful of the Earl's promises that fame and fortune will accompany his works, Johnson puts on the show anonymously without even reading the manuscript, thanks to the assistance of an illiterate acting acquaintance of his by the name of Will Shakespeare.
Upon hearing the adulation, Shakespeare does what any performer would do and thrusts himself into the limelight to claim these celebrated words as his own.
But his anonymous writing isn't the only secret in the Earl's life, and as his plays are received to increasing fanfare, de Vere is increasingly occupied by the unravelling of his own legacy.
Apart from Emmerich's creative take on the authorship of the works of Shakespeare in Anonymous, the German director famous for his epic cinematic visions also hypothesises plenty of royal promiscuity and much more besides in this gripping story of our Tudor past.
As a writer, I'm sure I should care more for both Shakespeare's works and our own history.
But I don't.
So the liberties Emmerich takes make his version of English history all the more enthralling to me, as I'm sure it will to many who didn't study the minutiae of Shakespeare.
Though there's little doubt John Orloff's script has incited some furore amongst the most zealous defenders of Shakespeare's works.
It all strikes me as much ado about nothing, especially as these Shakespeare purists seemed to have reached their conclusion about Anonymous before the film's release.
It's hard to take their views seriously when they can't have even seen what it is they're protesting about.
In a tragic comic twist that their beloved bard would doubtless approved of, to judge by his alleged works, their actions will only help raise awareness of a film they seek to discredit.
Of course, it doesn't really matter who wrote these plays or who didn't; that they exist should be enough for anyone who enjoys either theatre or the art of a good story.
And Anonymous helps bring these works vividly to life to an audience who may not have found the scholarly world of Shakespeare created by its aficionado's academic pretensions particularly accessible.
Told in flashback from various moments of our past by the peerless Derek Jacobi, Anonymous stars the delightful Rhys Ifans as the adult version of the aristocratic genius, with Jamie Campbell Bower playing his suave, younger self.
As Queen Elizabeth, Vanessa Redgrave and Joely Richardson keep it in the family as the older and younger incarnations respectively.
David Thewlis plays the William Cecil, Elizabeth's most trusted advisor, until he is replaced on his death by his son Robert, with Edward Hogg cast in this role.
A talented list of supporting actors make up the other characters of note, where the ego of the individual is sacrificed at the altar of telling a gripping story.
Which Anonymous achieves amply, even for Shakespeare philistines such as myself.
Jonathan Campbell