Arun Ghosh At Ray's Jazz Cafe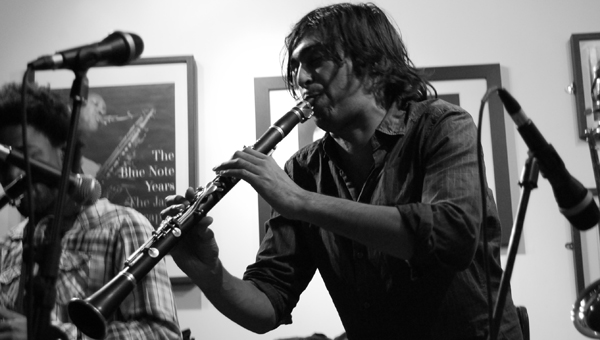 Some things are worth waiting for.
Well, that's what I think.
Seeing as I arrive late for most everything in my life, I probably would.
And judging from the face of my long suffering companion for tonight, having turned up almost half an hour late again, this is a sentiment he may not whole heartedly agree with.
Still, at least I was on time for Arun Ghosh's second live show of London Jazz Festival this month at Ray's Jazz Cafe.
Having kept his cult following waiting for over three years since the release of his debut album, Northern Namaste, Ghosh and his jazz quintet mixed things up in this hour long set with tracks from this and his new record, Primal Odyssey.
With half the band's musicians having changed since the last time I saw them, there was some understandable caution from the new line-up as they sought to rekindle their understanding built from when they previously toured the Middle East with Ghosh.
Opening with the first song from Ghosh's new album, Caliban's Revenge, this became less noticeable as the group showcased the fire and energy I've come to expect from any Arun Ghosh quintet.
Dipping back into the past for Longsight Lagoon, the differing tempo and styles of this combination perfectly illustrate the contrasting yet complimentary rhythm Ghosh typically favours.
After the vibrancy and onstage dynamism comes the slower, more hypnotic numbers for a cooling off period of. It's this classic "loud / quiet / loud" recipe, favoured by great musicians from myriad genres, that's the hallmark of an Arun Ghosh live set.
Having grown up in Bolton, Manchester's swaggering indie scene of the late eighties and early nineties are also discernible in both Ghosh's atypical jazz sounds and his onstage theatricality.
Making his physical presence felt by spitting melodies out from his clarinet spits, bouncing up and down in harmony to whatever's being played; Ghosh is charmingly soft spoken in between songs as he improvises small talk with the audience in this intimate Soho venue.
Fusing the spirit of his early musical influences with that of traditional Asian jazz, Ghosh's sound is more accessible than most people would associate with conventional jazz.
And while his quintet's live sound often elaborates upon this with the band taking it in turn to perform oft breathtaking solos, it never drifts into the ridiculous or self indulgent.
Nowhere is this heard greater than on closing finale Aurora, the first song Ghosh wrote and my highlight of his Ray's Jazz Cafe set.
Building up rhythmically, Ghosh and his jazz quintet set the stage for on final frenetic saxophone solo before departing to a standing ovation.
So I may be late for most everything in my life, but I feel pretty fortunate to have discovered Arun Ghosh and his jazz quintet's music so early on.
Words by Jonathan Campbell, Photography by Tim Green