Amon Tobin At The Forum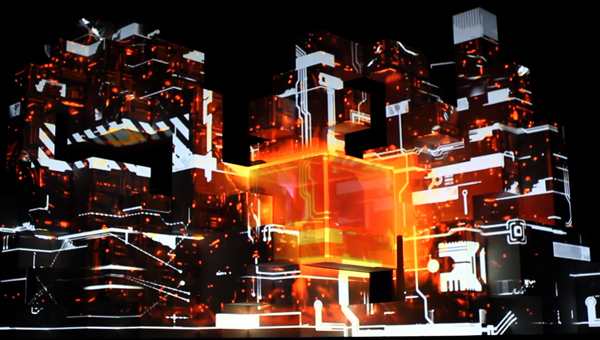 I've always thought there was something missing from electronica gigs.
As something of a connoisseur of the genre, I'm a little too familiar with the sight of some decks accompanied by a glowing apple icon and some guy twiddling around with them; looking as though he'd be far more comfortable sipping a snakebite at Goldsmith's SU bar then performing to an audience of thousands.
When presented like this, the music can seem like a mere by-product of some masterful computer software, rather than a talented musician displaying his creative mojo.
This tired formula left me longing for something new; for someone to try dressing their live shows up to match the grand scale of their music instead of regurgitating convention.
So it's only natural that I'd herald musical pioneer Amon Tobin and his innovative ISAM live music experience as the dawn of a new electronic age.
After an extensive tour on the other side of the Atlantic, Tobin's ISAM installation at last arrived at The Forum formerly known as Kentish Town for its grand finale.
Tobin's live ISAM experience defies definition. In the words of the creators themselves, the project revolves around the concepts of sensory deprivation, disorienting situations and the mechanisation of natural things.
The installation itself is essentially a series of visualisations and images synchronized with Tobin's music before being projected on to a three dimensional cubic structure, generating a seemingly holographic and authentically immersive experience.
And Tobin literally encases himself in this world, performing in his own cube at the heart of the installation, free from the lusts of the crowd to perform his experimental music on his own terms.
It's genuinely a never seen before experience; a sensory concept years in the making, delivered with a birth cry that shatters expectations of what we think a gig is supposed to be.
In its entirety, Tobin's ISAM experience is more akin to a futuristic art and sound exhibition then a mere musical project.
Plunging his fans into the depths of a seemingly endless ocean of fluctuating light, colour, image and sound, Tobin allowed us to surface for a breather only once or twice throughout the eve.
Matrix style visuals, voyages to outer space, dynamic arcane machinery and kaleidoscopic graphics were but some of the imagery projected on to the installation, seamlessly shifting from one to another while fluctuating in time with the music.
It's clear that Tobin's ISAM album was created with the installation in mind, for without the visual element you only get a fraction of the feeling the Brasilian DJ and his talented live team intended to create.
The night was a relentless assault on the senses, commandeered by a morphing and mutated sonic presence that moved in perfect synchronicity with the visuals; giving the audience a sensory experience that adds another dimension to this, or any, music.
Describing how these seemingly incompatible concepts work in unison is something that needs to be seen rather then read about.
Amon Tobin's ISAM project has unofficially ushered in the age of next generation gigs, emphatically stamping his name all over the evolution of live music and ahead of its time.
I can't think of a greater compliment to bestow upon any creative being.
Kareem Ghezawi