Drive DVD Review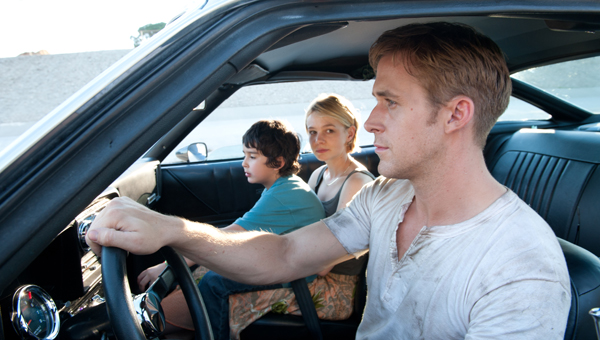 Real fairytales don't exist, and neither do real heroes.
At least that's what the girl I watched Nicolas Winding Refn's Drive with told me.
Me, I'm not so sure.
This now iconic film of 2011 is about a man with no name and no real purpose in his life, other than to drive.
So I guess it's lucky that his name is Driver.
Anyway, as long as it involves driving, our "hero" will do most anything with his time.
A philosophy that has lead him into a life of stunt cars and film sets, part time hours as a mechanic in his adopted home of Los Angeles and even as a wheelman for hire to the less than angelic citizens of this city.
And Driver seems content enough with his lot, though you'd never confuse this with genuine happiness.
That only arrives when he catches the eye of a sweet and innocent looking girl next door type, who just so happens to live next door to him.
Irene is a single parent, at least that's how it seems, who's bringing up her adorable little boy as best she can.
But her life seems just as empty as her neighbour's, until Driver pulls up along side her.
Now, these two people with their content half lives give each other a little happiness to go with their sense of purpose.
And they lived happily ever after.
Ok, not quite; Drive isn't that much of a fairytale.
Irene's estranged husband arrives back on the scene, bringing with him all the baggage of his recidivist lifestyle and forcing our stoic Driver to make an uncomfortable choice.
Is he a real hero after all, or just a real human being?
Nicolas Winding Refn's stylish modern fairytale was the surprise hit of last year with both audience's and critics alike.
Having reviewed the original theatrical release and felt somewhat unnerved by the explicit and unexpected violent outbursts, I wanted to see how it felt watching Drive again.
And as you're prepared for what comes next, the second ride is a lot easier to stomach.
Ryan Gosling plays Driver, the ubiquitous protagonist of this film and he gives a delightfully schizophrenic portrayal of our hero.
Quiet, yet charming and chivalrous, Gosling's sudden switch from Gary Cooper to Patrick Bateman is surprising because he's so convincing in both guises.
Carey Mulligan is well cast as the vulnerable Irene, who's stumbled upon a man who will do whatever it takes to protect the people he cares about.
The rest of the ensemble are similarly well suited to their roles, but as a non fan of Mad Men the disappointment of Christina Hendricks minor supporting role was lost on me.
The glorious eighties inspired soundtrack and aerial shots of Los Angeles certainly weren't though.
As for fairytales and heroes, I think it all depends on what you want to believe.
I had my doubts about both, but not anymore.
Just don't expect either to look quite as good as Ryan Gosling.
Jonathan Campbell