Burial: Kindred EP Review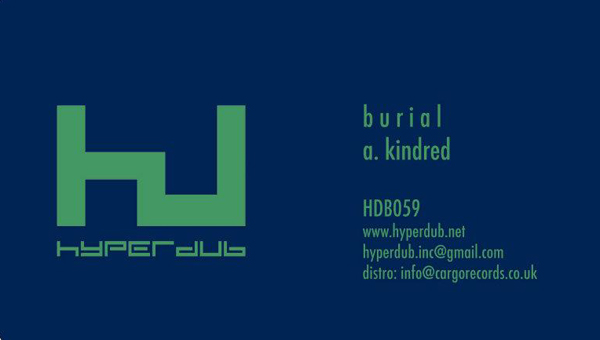 There are few producers who can evoke a vast range of emotions through their music and even fewer who manage this with their name alone, but Burial pulls off both tricks.
Electronic music hasn't been the same since this elusive south London beatsmith began saturating our airwaves with his distinctively atmospheric musical stylings back in 2006.
Now, after much waiting and media hype, I finally have a dose of my favourite electronica opiate in the shape of Burial's latest EP Kindred.
Starting with its fourteen minute title track, Kindred's opening song is the sparsest and most stripped down number here; allowing plenty of room for naval gazing before unpredictably picking up in beat and tone to further change the mood late on.
Burial's new record then moves on to the seven minute Loner, my favourite track of the three and a counterpoint to the EP's thematic title of kinship. This shift is reflected with its sombre tone and mildly distorted samples that lead towards a captivating and hard hitting climax.
Kindred ends with the eleven minute Ashtray Wasp, picking up where Loner left of by continuing this song's catchy rhythm before elegantly mutating into a visceral soundscape with layers of haunting vocals that keep up with an ever so slight beat.
Burial's new record is everything an EP should be and a progressive, thirty minute testament to this south London producer's enduring appeal.
And in Burial's case, this appeal doesn't look like fading out.
Most producers make great tunes that ensure my london commuting hell is just about bearable, but I'll still find myself distracted by the inconvenient distractions of my fellow inhabitants of this city.
But when I listen to Burial, his essentially emotional dance music transports me to a world of melancholy ambience so that even a crying baby on the jubilee line can not pierce this cocoon.
Judging by his cross market appeal, I'm not the only one who feels like this.
But Burial has never compromised on his music either, consistently delivering that signature eerie sound of his that is the perfect soundtrack for my late night walks around the city.
There's just about enough meat on Kindred's musical bone to satisfy your average electronica-vore, but another full length album would have been even more satisfying.
I'm guessing that'll be next up on the menu, and am more then happy to gorge on this filet mignon of a record until the main course arrives.
Kareem Ghezawi