Pulled Apart By Horses At The Electric Ballroom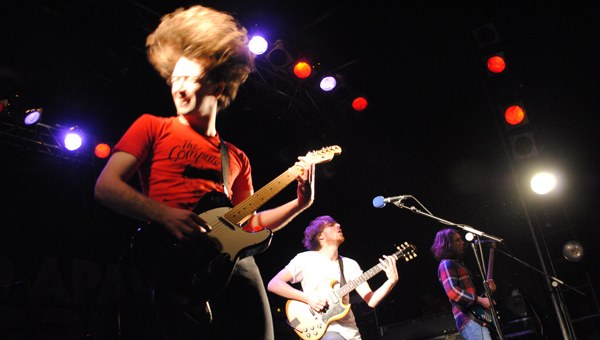 Some people think guitar music in the UK is dead.
They say that auto-tuned pop from ubiquitous US stars like Rihanna, Katy Perry, and Lady Gaga dominates our airwaves and download charts. What little stuff does come out of the UK just seems to be club-fodder, with artists like Calvin Harris, Dizzee Rascal, Tinie Tempah and Example leading this dubious pack.
Others will tell you this genre is alive and kicking. Look at The Vaccines, one of the enduring musical success stories of 2011 they'd cry. They're a snotty punk-pop band with guitars and everything, and they got nominated for a BRIT for fuck's sakes; which puts them in the same league as Adele, One Direction and Ed Sheeran, right?
Dead wrong, say I, and Pulled Apart By Horses would no doubt second this statement. Together, with their magnetic support act The Computers, PABH showed Camden's Electric Ballroom exactly how hard and fast the British rock and roll heart beats, with their relative underground appeal making their message all the more potent.
Of course, they're not that underground. When The Observer christened PABH "surely the best live band in Britain" right now, they got the full attention of the liberal middle-classes with no religious abode to attend on a Sunday.
Thus an expectant crowd packed out Camden's Electric Ballroom, eager to see for themselves the electric performances of a band guaranteed to blow their socks off, set them alight and then force them back on again so they could twist, jostle and scream with the fury of a thousand burning suns.
The evening's entertainment was kicked off by The Computers, a fantastic blues-punk quartet from Exeter whose style borrows slightly more from fifties twelve-bar blues and garage rock than the eighties thrash sounds of PABH.
Opening with Where Do I Fit In? from their recent album This Is The Computers, you could tell straight away that the boys meant business. Clad in matching all-white attire, the foursome could barely contain their excitement, playing a magnetic and frantic set whilst jostling around and pushing each other to the ground onstage.
Frontman Screaming Al speaks to the crowd with an orator's tongue, telling the sweating throng before him how they're in his church now, and if Al's God all men and women are created equal.
Aside from the obvious religious connotations of having a man dressed in white sermonising at you from up high, Al's oozed anarchic charisma and he soon had the crowd eating out of his compelling stage persona's hand.
Continuing his prophet-like love affair with the crowd The Computers frontman leapt down from the stage, parting the moshing masses like some N1 Moses, as he strode confidently to the centre of the dance floor.
Dedicated roadies and some equally committed fans helped hold Screaming Al's guitar cord high above their heads, just proud to be involved as he launched into an impromptu performance of Music Is Dead from the tiniest oasis of reverent space on an otherwise packed dance floor.
Such was his fervent energy, you felt Al might spontaneously combust at any moment. Thank god he didn't, but The Computers definitely managed to set the Electric Ballroom ablaze.
In stark contrast, Pulled Apart By Horses seemed to be trying a little too hard.
Right from their opening number, the brilliantly christened I Punched A Lion In The Throat, the headline act's music with its chuggy RATM-esque riffs, frenetic percussion lines and mosh-friendly shrieking couldn't be faulted for effort.
But maybe that was the problem.
Drummer Lee Vincent recently tweeted how PABH have toured with some obscenely good bands, but never been given a run for their live money as on their current tour with The Computers.
And I'm inclined to agree.
There was leaping, there was moshing, there was the sight of frontman Tom Hudson scaling the speakers at one point; but it didn't have the same insane energy and engaging madness of The Computers' earlier set.
PABH are a band making confident, exciting and innovative punk music; irreverently defecating on any claim that guitar music has died a death in this country. But in comparison to their support act, their live show seemed a little lacklustre.
The band got a huge reaction to V.E.N.O.M., their excellent recent track from new album Tough Love, and High Five, Swan Dive, Nose Dive from their self-titled debut also tore the roof off the place.
The live performance, however, lacked that special something of The Computers, that rock 'n' roll je ne sais quoi to take it above and beyond just another punk gig in Camden.
Maybe The Observer had bigged up Pulled Apart By Horses a little too much, but The Electric Ballroom definitely played host to one of the most exciting live guitar prospects in British music.
It just wasn't who I was expecting.
Words by Tom Hoare, Photography by Charlotte Jade