Las Acacias DVD Review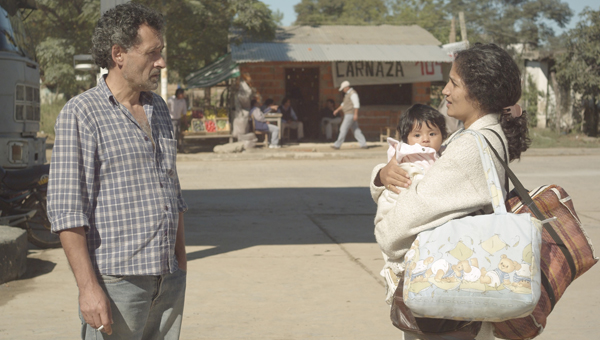 Usually, a film which gives more time to cinematic machinery than dialogue wouldn't hold my attention all the way through.
Las Acacias proved to be the exception to this rule though.
This sweet, slow paced film follows long haul truck driver Ruben as he drives from Paraguay to Buenos Aires, with Jacinta and her five month old daughter Anahi in tow.
Ruben has spent much of his life on the road and is used to driving alone, only allowing Jacinta to join him on the drive as a favour to his employer.
Surly from the off, things become frostier still when Ruben discovers a baby he wasn't expecting is joining them for the ride. Soon the bother of additional stops allied to restrictions on his smoking habits in his cab irk Reuben so that he tries to buy a bus ticket for his two passengers.
Jacinta gradually wins him over though, with her quiet unmoving kindness whilst Anahi is nigh on impossible to resist with her massive eyes and pleasant nature.
Winner of the Camera D'Or at the Cannes Film Festival and Sutherland Award at last year's London Film Festival, Las Acacias is a remarkable debut feature from Pablo Giorgelli. It's the story of two strangers who slowly grow to accept each other for who they are today, without delving too far into their back story.
Much of the action takes place within the cab of the truck, which you'd think would make the film feel claustrophobic. But there's enough roadside scenery to counter this, with the three's interactions in Reuben's small cab poignantly exposing just how lonely his life is.
Sidelong glances between Reuben and Jacinta, deftly played by Germán de Silva and Hebe Duarte, and their interaction with Anahi speak more clearly of their changing relationship than dialogue does.
Giorgelli relies on body language and the absence of words, which allows viewers to work out character's thought processes as they happen. The near constant hum of engine noise being the only thing that keeps the Las Acacias from silence.
Unusually, Anahi's infant character is as important as the adults, managing as she does to draw her two travelling companions closer together. Her inherent vulnerability opens up Ruben's cold exterior to lament about his own family regrets, with Jacinta and Anahi seeming to offer up a chance for atonement.
I suppose Las Acacias is really a love story, just not the kind with on screen romance, swelling music and wild declarations of undying devotion.
If on the other hand you want something subtle, simple and charmingly honest then this is the film for you. Las Acacias has little dialogue, but its message is far from lost.
Caroline Armour