Electric Guest: Mondo Review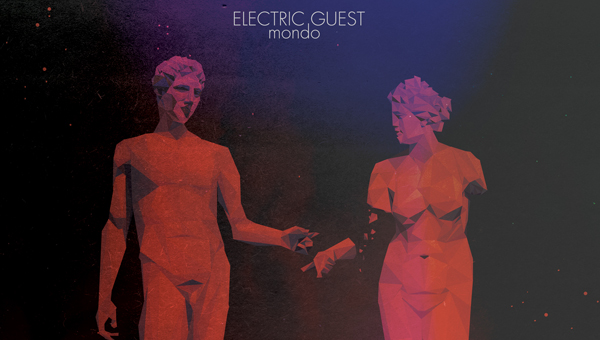 Straight out of the City of Angels and fresh from a feature in MTV's Artists To Watch in 2012 comes Electric Guest, AKA Asa Taccone and Matthew Compton, with their debut album Mondo.
This voltaic duo aren't close to household name status just yet, but they're certainly making a buzz in certain and rather hip circles. This Head I Hold has already notched up half a million hits and counting on YouTube, with their song's manic depressive lyrics delivered in a style that's not quite upbeat.
Taccone and Compton certainly have a few things going for them, one of these being that Electric Guest's music is very hard to categorise. It sounds like indie pop, but smooth r 'n b vocal stylings, oddball harmonic movements and Danger Mouse atmospherics don't really allow this label to stick. And there are plenty of soulful and funky moments too.
I'd call Mondo thinking man's indie pop, but that would be a patently stupid statement to make. What would that even mean anyway, as surely everybody thinks.
As you may have picked up on earlier, Brian Burton aka Danger Mouse has a production credit on Electric Guest's debut album. Taccone's brother was an old friend of the super producer and having played some tracks to him over the phone, Burton was impressed enough to offer his production services to Asa back in 2007.
Being the sharp guy that he is, Electric Guest's frontman said yes.
After many years of meandering musical progress, whittling a few hundred songs down to a ten track shortlist, Mondo has arrived. And with Danger Mouse behind the desk, it's not hugely surprising that the production is very slick indeed; though it comes close to being a bit too polished at times.
Danger Mouse's influences aside, there are some catchy pop flavours to Electric Guest's first record. Taccone is a self confessed addict of terrible music but isn't too keen to let onto his other inspirations, whilst co-creator Compton's love of indie rock and 60s-era French pop are certainly recognisable influences on Mondo's sound.
Analogue synths show up on a lot of this record's tracks, giving many songs a kitschy or slightly cheesy feel. But it feels like part of the cunning plan Taccone and Compton have dreamt up to seize listeners attention by disguising their music as something familiar and unthreatening.
Electric Guest tend to slip into the dangerous territory of musical cliché too, such as the late arriving arpeggiated chorus synth line on This Head I Hold. But perhaps this too is all part of the plan. Many of the tracks are simple, but in what sounds like a cunningly calculating way. Like they were laboriously crafted to create the perception of simplicity.
Other songs such as Holes seem to slow the album down a bit and, having listened to the album a fair few of times, a lot of the tracks here feel a little disposable. Still, there are some enduring little numbers that won't be leaving your head anytime soon; Under The Gun, This Head I Hold and the surprisingly moody Trouble Man immediately spring to mind.
Mondo didn't grab me from the get go and the cheese can be a little jarring at times. I'm tempted to slip in a joke about Electric Guest being unsuitable for the lactose intolerance here, but I won't.
Because after you listen to this Los Angeles twosome's quirky, often catchy music with touches of soul for long enough, it no longer starts to grate.
Jack Oughton