Platform 33 At The Slaughtered Lamb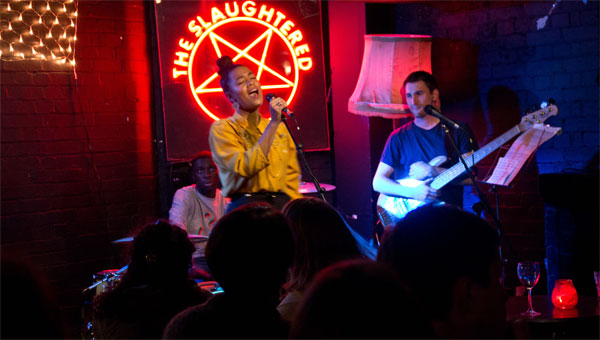 The show is set to start at 19:30 and, thanks to a road like a dry river, nothing is flowing down my street.
Just a handful of London town blocks away from my venue tonight, I get out and run the only way a literature graduate can.
Awkwardly.
Sweaty and anxious, I stumble into The Slaughtered Lamb in Clerkenwell, a deliciously atmospheric bar that caters to young, professional hipster types that have young, professional hipster jobs.
But the place is barren, and I'm a little worried.
It's 19:29 and I was prepared for the usual bareknuckle brawl to the death for my seat but, instead, I've got the pick of the house.
Of course, this can happen with theatre; the bum night, where baby it's cold outside and nobody shows.
But in the time it takes me to slide off my coat and consider my beer for the eve, suddenly, it's not just full but overflowing.
Judging by the good deal of red faces on show right now, it looks like I wasn't the only one who ran to get here either.
Platform 33 founder Chloe, and our hostess for the night, takes to the stage and introduces what's to come, which is giving artists 33 minutes to perform their work.
In their allotted time slot they'll be able to do whatever they want, from performing old and new material, talk about their inspirations or taking questions from the crowd; as long as they stick within their 33 minute window.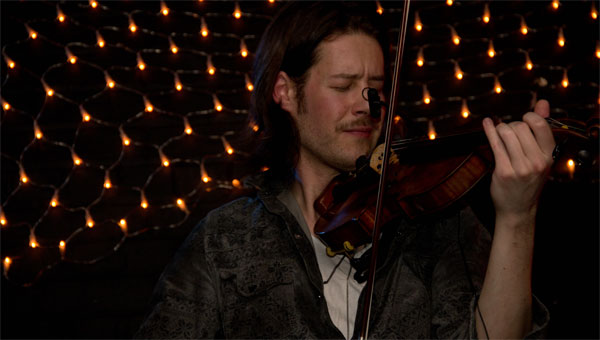 Coupled with co-host John McKeever, these two make for an adorable yet occasionally awkward MC duo, which sets the informal and social tone for the night.
Damsel Sophie is up first, performing a segment from her well received tour show, The Damsel In Shining Armour.
Sophie had me right from her opening – there were puppets – followed up with a rather cerebral deconstruction of cabaret success and a rather lovely Adele cover.
And by the end had stolen my heart with her entrancing voice and, implausibly, a Celine Dion inspired finale.
Up next was Thomas Gould, who looked like he'd stepped right out of the pages of a romance novel. He's got the long hair and flowing shirt combo with musical instrument in hand, in this case a violin, set against some fairy lights that hung like another earth's more geometrical arranged stars and bathed in blue, faux moonlight.
Have you ever been lost in a sound, or seen a man melt into music? Perhaps my body was still getting over that run, or maybe it was the music's power, but his violin magic felt more like a tongue than an instrument and as some sorcerer he whispered wisdom into my ears.
Gould is calm, relaxed and perhaps not what I was expecting.
Funny, self-possessed and utterly passionate, Gould played three pieces by Nico Muley, Bach and Paganini, all punctuated by his own comic musing, before finishing off with his an own arrangement of a guitar piece called El Ultimo Tremelo.
The night's final act was a simply beautiful woman called Juliyaa, by which I don't simply mean that she's just attractive, which she is, but that she has enough personality to sing to an empty room and make the walls have a good time.
Performing a medley of songs from christmas carols to Outkast covers, Juliyaa showed confidence in a variety of musical genres, whilst having an absolutely wonderful time with these venue's walls.
Her last number and title of her new album, Stars and Dragons, got the audience up and dancing, even if this took a little persuasion and left many patrons befuddled.
Although that could have been from a lost button of mine after I started chest popping at Juliyaa's insistence.
Unpolished in places, owing in large part to the venue's set up and an acoustically confusing room where the odd whisper seemed to carry through the air, Platform 33 put together a fantastic show of emerging and entertaining new artists.
Everyone from performer to audience seemed to have a lovely time, and it all added up to a decidedly enjoyable night of artistic indulgence, especially if you'd rather let someone else go through the hassle of ferreting out London town's brightest new, young things.
Shelton Lindsay, photos by Nuriya Oswald