Green Day's American Idiot Review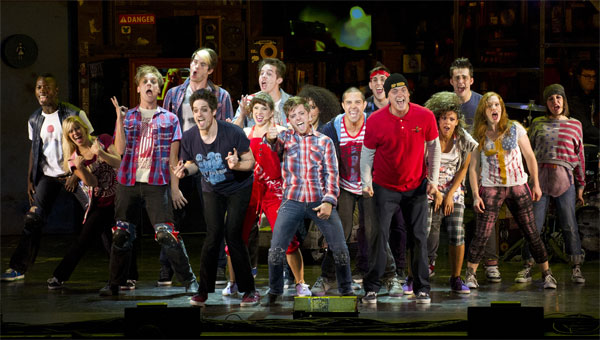 I'm not yet in my seat but am already excited to find out what's occurring onstage.
Though an ocean blue curtain obscures my view, it can't stop the sounds of either an assorted crew of escaped zoo animals or a rather enthusiastic ready to rock group infiltrating my ears.
As the curtain rises my disappointment is only slight as I find before me the all American touring cast of Green Day's American Idiot, instead of a motley crew of hyenas and orang-utans.
The stage is set up like some industrial wasteland, replete with television monitors stacked above each other, each one blaring out rapid montages of american cultural life.
Shots of Britney Spears, NYC, bombs, fires, guns and Ronald Regan amongst a whole slew of other iconic images from the US of A dance around in some hyper media display; all the while, amero-centric news voices from the turn of the century are piped through speakers to overwhelm our senses.
We're somewhere in suburbia at the turn of the century, the land of mass media saturation, the modern american dream and depression.
And with that, the rock opera begins. With a take no prisoners rock opening of American Idiot, the musical introduces us the principle characters, Jimmy, Will , and Tunny, played by Alex Nee, Casey O'Farrell and Thomas Hettrick.
Without any expository dialogue, these three leap into a music medley mash up featuring Jesus Of Suburbia, City Of The Damned and I Don't Care amongst others.
Quite quickly it becomes clear American Idiot isn't your usual musical adaptation of a bands work. You know, the kind that struggles to shoe horn a half decent plot into songs that were never intended for the stage.
Rather than worry about using the traditional musical troupe of singing dialogue, the songs become metaphors for the emotional states the characters are in with most of the plot constructed and conveyed through their actions.
The dialogue is sparse and remains so for the duration, only really surfacing in the form of several letters to friends or family; letters which nicely denote the passage of time and provide us with some key insights.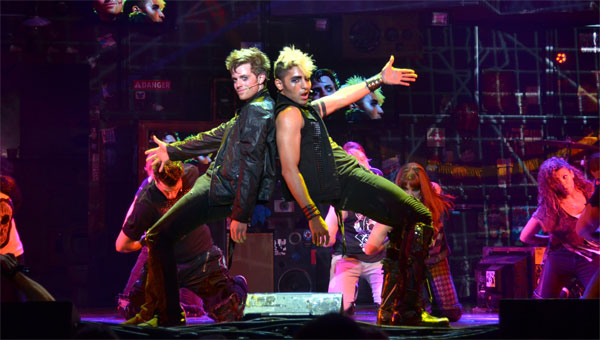 Yet don't let this trouble you; the plot is strong, clear and well presented. And though Jimmy, Will and Tunny all dream of living in the city, life has other plans in store for them.
The play quickly develops into a triptych, with this trio split yet often sharing the stage harmonising together as songs combine to reflect aspects of their now individually lead lives.
American Idiot's atypical structuring is incredibly refreshing, managing to meld rock music and musical theatre into a delicious combination.
The dancing is entertaining, albeit occasionally distracting, the cast's voices are uniformly strong with their harmonizing adding an interesting layer of vitality to classic Green Day tracks.
And then there's the absurd, campy and entirely amazing alter ego of Jimmy – St. Jimmy – who's constantly throwing out handfuls of glitter heroin whilst doing interpretive dance moves Pina Bausch would be proud of.
If, like me, you grew up in the naughties then you'll be perfectly familiar with Green Day and, even though I'm just a casual fan, their American Idiot play brings back that perfect mix of youthful angst, loss of direction and yearning desire for some sort of destiny.
Shelton Lindsay