300: Rise of an Empire Blu-ray Review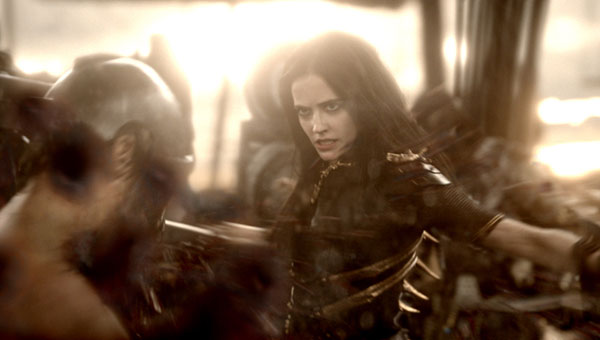 The film adaptation of Frank Miller's 300 proved one of the breakout hits of 2006.
It made a star of Gerard Butler and propelled director Zach Snyder up the ladder of Hollywood blockbuster go-to guys.
For follow-up movie 300: Rise Of An Empire, Butler is nowhere to be seen, whilst Snyder has returned in writer-producer capacity, presumably too busy with certain Kryptonians and Gothamites to be turning his hand once more to directorial duties.
The question is, does the sequel live up to its predecessor?
Sequel actually may be the wrong term, for this instalment has been variously described as a prequel, a midquel and a sequel. A multiquel, if you will.
Proceedings start civilly enough, with a grandiose voiceover and a battle montage. Lena Heady as Gorgo, a more benevolent queen here than her Game of Thrones persona, takes over narration duties from David Wenham's Dilios.
The prologue involves Themistocles' slaying of King Darius, at the Battle of Marathon, ten years before the events of the original movie. Darius' son Xerxes, is driven by rage and revenge to eventually wage war on Greece, along with second-in-command Artemisia.
The ensuing warmongering consists mainly of the Persians' engagement at sea with a small-in-number-but-great-in-spirit cadre of Athenians, headed up by Themistocles. The events of the previous film are simultaneously taking place elsewhere.
The special effects are not bad, particularly when you consider that the many water scenes were shot entirely in bone-dry, green-screen studios. But despite the seven year hiatus, there does not seem to be any quantum leap in effects quality since the original film, with the only discernible difference being the presumably increased FX budget for CG blood.
And you cannot help but feel that, if all the slo-mo shots were adjusted to normal speed, a good twenty or so minutes would be knocked off the running time.
As performances go, Sullivan Stapleton is fine as Themistocles, though lacks the grandeur of Leonidas in the first film. In any event, he manages to conceal his Aussie accent with about the same success as Butler hid his Scottish brogue.
The film does introduce one positive development: a strong villain figure.
True, the previous instalment had Dominic West as a slimy politician and ostensibly a cameo from Rodrigo Santoro as seven-foot God-king Xerxes, but the focus was much more on Leonidas and his troupe of homicidal Chippendales.
This time around we have Eva Green, who is suitably villainous and kick-ass as Artemisia. This gives the film more of a cat-and-mouse edge which the previous instalment lacked.
In addition to Heady, Wenham returns for a few brief scenes; ditto Santoro as Xerxes and Andrew Tiernan as treacherous hunchback Ephialtes. But this all seems to be mainly for continuity purposes, with the majority of screen time given to the newbies.
Callan Mulvey and rising Brit star Jack O'Connell are good as father-and-son warriors Scyllias and Calisto, though Hans Matheson is given little to do as Themistocles' bezzie Aeskylos.
The film ends, much like the recent Hobbit and Apes franchise entries, with the promise of a further battle, rather than the actual depiction of one. Let's hope that the inevitable sequel delivers on this front.
Conor Brennan