Creed Blu-ray Review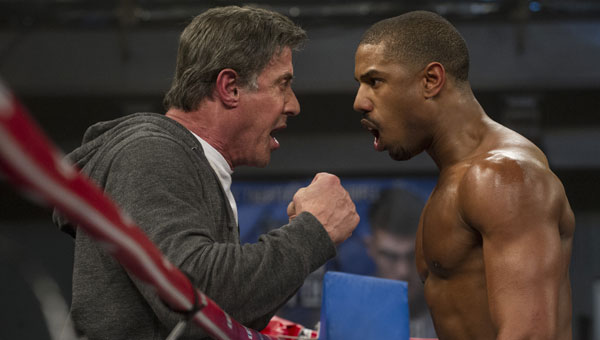 I don't actually remember a huge amount about the original Rocky films.
I am more familiar with the backstory – the then-unknown Stallone put everything on the line to get the first film made, mirroring the struggle of his protagonist – but recall very little about the movies themselves.
Sure, there's some vague recollection of Stallone running up steps and Mr T as an opponent and that bloke who played the Penguin in the Batman TV show, but the only thing of substance lodged in my memory banks revolved around the ludicrous Cold-War propaganda of Rocky IV.
Specifically I remember the spectacle of Carl Weathers bursting forth to the tune of Living in America by James Brown. Here, at his most memorable, was Apollo Creed.
Creed's legacy is the primary focus of the recent instalment in the franchise, aptly titled, well, Creed.
The film is directed by Ryan Coogler who reunites with Fruitvale Station lead Michael B Jordan playing Creed's illegitimate son Donnie Johnson.
The Donnie is short for Adonis, so it all makes sense.
In a plot which essentially recycles the first Rocky film, Donnie starts off as a small-time boxer, fighting amateur matches in Tijuana.
Eager to get better and unable to be trained in Los Angeles where he and his father are well known, Donnie heads to Philadelphia and tracks down Rocky Balboa to train him.
Thus follows a tale whereby Donnie fights his way through several training montages, romances a local girl and gets challenged by a World Champion for publicity reasons.
As I said, familiar stuff. But as the recent Star Wars film has shown us, rehashing good movies from the seventies is not necessarily a bad thing.
Creed does an admirable job of handing the reins of the franchise over to younger blood. Like a good boxer, Stallone most likely realised that 2006's Rocky Balboa was has last fight and wisely decided to hang up the gloves.
The story is therefore centred on Donnie, played with a likeable intensity by Jordan, whilst still paying tribute to the legacy which Stallone, and indeed Rocky, has built.
So the plot is rehashed, and there are a few corny mind-the-generation-gap gags about technology, but Creed delivers.
Fight scenes are thrilling and innovative, especially a one-take fight midway through against local fighter Leo Sporino, which is no mean feat in the post-Raging-Bull world which has evolved since the original Rocky film.
But the choreography is secondary to the driving forces behind the characters who step into the ring. By the time the bell rings for the final bout, Jordan has the audience firmly behind him as he battles the menacing Ricky Conlan (Tony Bellew).
It's understandable that a sequel is already in development, for Creed is a very satisfying entry to pass the baton forward, bringing the fans firmly with it.
Conor Brennan