Indignation Review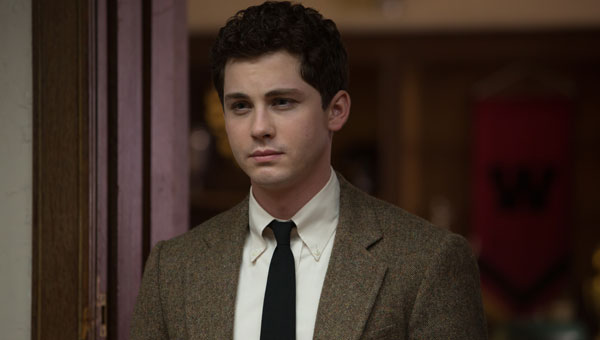 Indignation is probably the best word I could use to describe my emotional state on arrival at a rather more stylish West End venue than I had envisioned, rocking the old dad-bod, complete with flustered, ruddy complexion and beige slacks.
I had been dispatched to this swanky little corner of WC1, by a man with hair so voluminous you could serve it in an oversized dish and call it a soufflé, to view a feature length adaptation of the Phillip Roth novel, Indignation. My mood suitably darkened having been delivered to the theatre in the tardy fashion by what has now been officially recognised as the slowest Piccadilly line train since records began.
Little did I know that my sluggish arrival was merely an hors d'oeuvre to the glacial pace of the main course of James Schamus' debut feature set in conservative 1950's America.
Marcus Messner, played by Logan Lermann because alliteration, is a brilliant and idealistic Jewish boy from Newark who is handed a scholarship to study Law at a Bible-Belt university in Ohio. In doing so Messner elegantly side-steps the US Army draft to Korea which has already accounted for one of his former schoolyard peers, killed in action.
Like an underdressed, yet charismatic 'fun-writer' at a serious film screening in a smart Soho hotel, Messner doesn't exactly fit-in at his new college. He is assigned a room with a pair of young Jewish schmucks for roomies.
Wisely, he chooses not to engage with them. In fact Messner is so single-minded he chooses not to socialise with anyone, Jewish or otherwise, spending all of his time either studying the law or working in the college library.
Eventually he does strike up a friendship with the beautiful and flirtatious Olivia Hutton. Sarah Gadon the actress who plays Olivia, and I do apologise for the aside, is irrevocably destined to make numerous chat-show appearances sitting daintily perched on the lower section of a custom adapted sofa.
She will be contractually obligated to laugh at invented anecdotes pitched as actual events in the incredible life of Tom Cruise whilst on the promotional leg of some inanely tenuous action film having signed a partial nudity clause in order to secure the role.
After the publicity tour for this film has been completed Gadon will be informed in no uncertain terms that she will never work in Hollywood again unless she marries Cruise and undergoes a full conversion to the church of Scientology.
But I digress. Olivia and Marcus arrange a rendezvous at a fancy restaurant. On a brief detour from escorting his date back to her sorority house, the baseball loving Messner is surprised to find himself going way beyond first base in a Cadillac borrowed from one of his roommates.
As the story develops it becomes apparent that Olivia is a troubled soul, having been placed in an asylum as an adolescent following a botched suicide attempt. Messner is conflicted between his youthful obsession and the need to please his mother, who immediately disapproves of the union.
But Messner's love-life is really a side issue to the central focus of the film, Messner's relationship with the devout and virtuous college Dean Cauldwell. The film's emotional centre depicted brilliantly in a wonderful two-hander where The Dean provokes his student into admitting he is an atheist by way of his adherence to the writings of Bertrand Russell. 'Homosexual Communists' not being to the Dean's approval.
Cauldwell is gravely offended and concerned by his gifted student's perceived lack of morality. The Indignation of the title coming from Messner's stubborn refusal to bend to Caldwell's pulpit-thumping will. The upshot of this meeting is that Marcus discovers that the Dean has well and truly marked his card.
Schamus' feature debut is certainly interesting, vividly capturing the paranoid and puritan atmosphere of Roth's vision of mid-20th Century America. It is well scripted, handsome to look at and the performances of Lermann and Tracey Letts as the Dean in particular are excellent.
However, aside from the fascinating interplay between the two main protagonists and the charming chemistry of Lermann and Gadon as the young lovers, the story is slightly too slow in development and its denouement entirely predictable despite my previously being unfamiliar with the novel.
All of which left the premier writer of soundbiteculture, as he took his meandering, neon-lit stroll back to the underground feeling perhaps not so much indignant, just ever so slightly underwhelmed. But I suppose that is not such a punchy title for a movie.
Frank Gardiner