Prevenge Blu-ray Review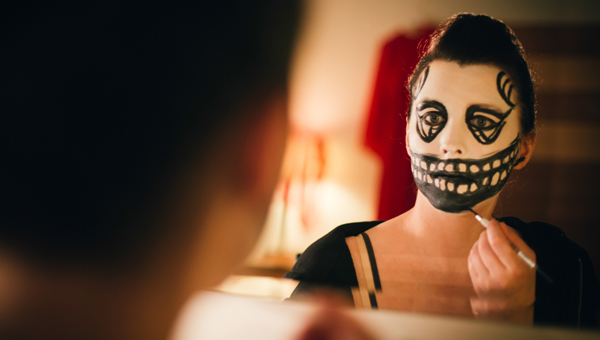 The first time I saw Alice Lowe on the big screen, she mainly alternated between filing her nails and chewing bubble gum in quite a detached way. Anything to pass the time, I suppose, whilst her character awaited orders from Timothy Dalton's sinister Simon Skinner in Hot Fuzz, some ten years ago.
The performance did not demand much, but Lowe somehow made it memorable.
In the intervening years, Lowe's most notable performance was as Tina in 2012's Sightseers, on which she also boasts a writing credit.
And this year Lowe wrote, starred in and directed Prevenge, whilst being pregnant in real life.
In short, Lowe impresses me more and more every time I see her.
In this film, Lowe plays Ruth, a young woman wandering around the streets of Cardiff, mourning the father of her unborn child.
It is initially unclear how the father passed away, other than that it involved some pretty high cliffs. And was quite messy.
Ruth's main interaction during this period consists of regular visits to the midwife (Jo Hartley) who counteracts her grief with messages of positivity and joy.
However, it soon becomes clear that Ruth is conscious of another viewpoint, in the form of a high-pitched voice in her head. The voice is not her own, but rather appears to come from her foetus.
And, rather unfortunately for those around Ruth, the voice's words tend to manifest as homicidal urges.
You may have guessed by now that the subject matter is not to all tastes. Indeed the overall concept must have been difficult to pitch in the first place. There is something creepily redolent of the recent-ish Ryan Reynolds recent film, The Voices. And the influence of Ben Wheatley, with whom Lowe worked on Sightseers, feels strong.
However, Lowe has managed to take these elements and weave them into her own, utterly original creation. Sure, it's grim, sparse and unsettling but all the more compelling for it.
One of the blu-ray extras includes a 'making of' featurette, in which Lowe explains her initial idea of a pregnant woman embarking on a grief-stricken killing spree and the dramatic possibilities presented. The woman is simultaneously focused on death and on the past, yet her pregnancy is all about life and the future.
Lowe's central turn capitalises on this potential, conveying so many things at once. Her performance transcends the bloody chaos and jet-black humour and ends up as something engaging and heart-rending.
There is also, although not necessarily needed, a game and strong supporting cast on hand including Kate Dickie, Tom Davis, Gemma Whelan and Kayvan Novak.
All in all, an assured directorial debut for Lowe and, though admittedly an incredibly acquired taste, it's a true treat for fans of darkly comic fare.
What will Lowe do next? I, for one, cannot wait to find out.
Conor Brennan