Beast Review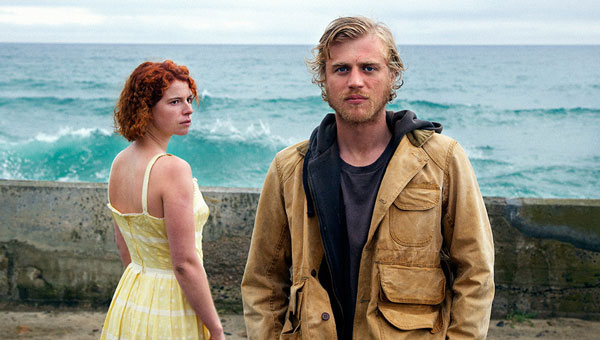 Twisted romances have long been a cinematic favourite of mine, from Bonnie and Clyde to Clarence and Alabama.
Michael Pearce's new film Beast, on the face of it, should slip neatly into that genre. But it seems about so much else too.
Meet Moll (Jessie Buckley), a young woman living in Jersey. Like her home, Moll is an island, socially distant from her overbearing mother and self-centred sister and totally immune to the amorous attentions of family friend and local policeman Clifford.
Moll's true feelings manifest as something deeper than unhappiness. In an early scene, we see Moll crush broken glass into her hand and almost feel relief from the sensation.
One night, she drifts off to a nightclub to drink and dance the night away. Come morning, she finds herself in a difficult position, only to be helped out by the mysterious Pascal (Johnny Flynn).
Pascal is grubby, quirky and unlike any of the other people Moll has met. He also carries around a gun and some dead rabbits. Jessie is smitten.
The two strike up a relationship, much to her mother's disapproval.
Their romance subsequently blossoms against a backdrop of recent murders of young women on the island.
The local police are suspicious of Pascal, leaving Jessie unsure about whether to put her head above her heart. She is in love with Pascal, but what does she really know about him?
As the dark tale unfolds, Jessie discovers many things; mostly about herself.
Much lauded at the 2017 Toronto film festival, Pearce's feature-length debut is an incredibly intense but rewarding watch, with much to admire.
For one, the physical setting is beautifully captured by Benjamin Kracun's cinematography. The juxtaposition between wild, rugged countryside and insular, conservative suburbia conjures up a wonderfully tense atmosphere, complementing the tumultuous relationship between the central characters.
This is all further charged by Pearce's script, which keeps the twists and turns coming, while never losing credibility or focus on the characters. Most importantly, a healthy vein of ambiguity runs through the whole film.
Which brings us to, literally, the stars of the show.
There are solid supporting performances from Trystan Gravelle and the great Geraldine James, but the main credit goes to Buckley and Flynn, who are nothing short of mesmerising as the central couple.
Both actors completely and utterly occupy their characters, keeping our loyalties on their toes and transfixing us until the film's unexpected climax.
A dark and relentlessly haunting romantic thriller from Pearce. Though maybe not one for date night.
Conor Brennan