Racer and the Jailbird Blu-ray Review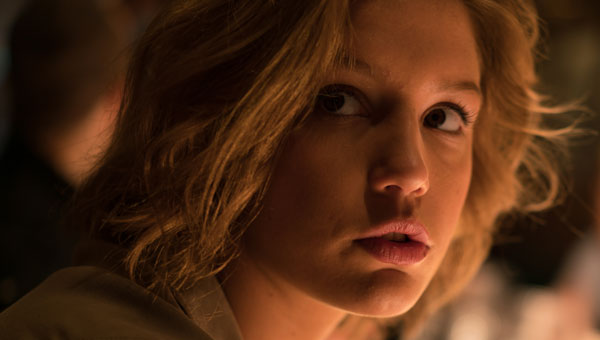 I first heard of Belgian director Michaël R. Roskam through 2014's The Drop, a low key, Brooklyn-set crime drama.
That film didn't exactly feel to me like the sum of its parts, but I was impressed by the performance of Matthias Schoenaerts in a supporting role.
A collaborator on feature films with Schoenaerts since 2011s Bullhead, Roskam teams up with him again in Racer and the Jailbird, out on DVD and Blu-Ray this week.
The film, set in Belgium, is primarily a love story between Gino ('Gigi') and Bénédicte ('Bibi'). Not your typical love story, mind; there are also elements of heist thriller and crime drama thrown into the mix.
Gigi (played by Schoenaerts) first meets Bibi at a motor race, where she is racing. There is an instant attraction between the two and they quickly become a couple.
Bibi (Adèle Exarchopoulos) divides her time between the racing and working at her father's construction company. What she is initially not aware of is that Gigi, too, lives quite a fast-paced life of sorts.
Firstly telling Bibi that he works in importing and exporting cars, Gigi actually earns a living from carrying out armed robberies with his mates.
Both Bibi and her father suspect that Gigi is hiding something and encourage him to be truthful about whatever he is mixed up in.
Gigi in parallel finds himself losing his taste for crime and gaining a desire for settling down with Bibi.
He is, however, convinced to pull one last job with his mates, and we all know that last jobs never end well.
The film was originally titled Le Fidèle, directly translated as 'The Faithful', which more accurately captures the themes and the seriousness of the film.
Somewhere along the way it was translated as 'Racer and the Jailbird', which makes it sound like one of those Burt Reynolds (RIP, Burt) car chase movies from the seventies.
It most definitely ain't that.
The first hour of the film is relatively breezy, or at least fast-paced, with the growing passion of Gigi and Bibi's relationship punctuated mostly by scenes of car racing or heist scenes which would not look out of place in a Michael Mann movie.
I say relatively, because the second half hour is quite different.
The film then spends an hour focussing on what happens after most 'doomed romance' films end. Roskam handles the tonal shift well, but be warned that it is a rough ride.
The performances by both leads are particularly strong in bringing us on this journey in a very real and raw way.
Exarchopoulos shows range as a woman who is equally wary of and thrilled by her new suitor, and who then stands by the consequences of her choices and ultimately has to take matters into her own hands.
Schoenaerts meanwhile successfully tackles Gigi's transformation from suave and cocky to tortured and repentant.
In short, do not be fooled by the disposable title. If you ever needed an antidote to Hollywood films which idealise romance and glamorise crime, this is the film for you.
Conor Brennan