Monos Review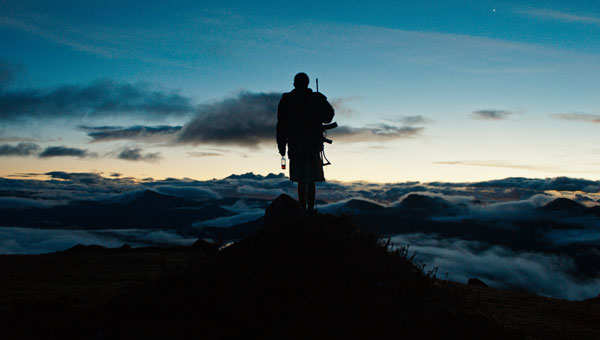 A few weeks ago, I saw an interview with Guardian film critic Peter Bradshaw where he mentioned Colombia / US production Monos as one of his top picks for this year's London Film Festival.
The film then went on to win the Best Film in the festival, alongside its accolades from various other festivals.
Nothing beats experiencing a film oneself so I trudged off to see it last week, striving to be fresh-minded and to ignore the weighty acclaim.
Directed by Alejandro Landes, the film focusses on a group of teenage guerilla soldiers camped on a remote Colombian mountaintop.
The title means 'monkeys' in Spanish, presumably a collective code name for the film's young subjects.
Incidentally these young subjects also have their individual code names: there's the leader Wolf, his girlfriend Lady, and an assortment of others ranging from the outgoing Bigfoot to the introspective Rambo.
The film opens cold, on a mountaintop at dusk, with the soldiers engaged in the middle of a game where they kick around an object rigged with bells. The hitch is that they are blindfolded and rely purely on sound to locate the object.
It's an offbeat but understated scene, depicting harmless fun played out against a jaw-dropping, cloud-covered landscape.
The innocence, or at least our perception of it, is quickly shattered by the arrival of The Messenger who dispenses orders and provisions, and oversees the treatment of the soldiers' hostage, the Doctora.
Through a subsequent series of events, the line between childhood and adulthood grows thinner and thinner from there, as the fragile group structure and playfulness give way to violence and inherent power struggles.
Yup, it's basically full-on Lord of the Flies. But with teenagers and guns.
In its earthy realism and relatively sparse dialogue, Landes' film recalls films like the Revenant in spirit, whilst creating its own unique experience.
The cast is terrific, putting in frankly daring performances at times. Julianne Nicholson gives a harrowing performance as the Doctora, the audience surrogate, but it is the teenagers who are the real stars, managing to invoke nurturing feelings one minute and instilling fear and horror the next.
Particular mention should also go to the sound and visuals, making this a must-see on the big screen.
Jasper Wolf's breathtaking cinematography puts you at the top of the world in the first half of the film, later plunging you into the claustrophobic jungle as the soldiers move camp.
The sound is even better, picking up every grunt and breath from the characters and every squawk and growl from the surrounding foliage. Overlaying this is a superbly unsettling score from Mica Levi, covering everything from fireside madness to hallucinogenic trips.
This will likely not make your 'favourite rewatchables' list but as a one-off cinematic experience it is a true assault on the senses in the best of ways.
Conor Brennan