Waves Review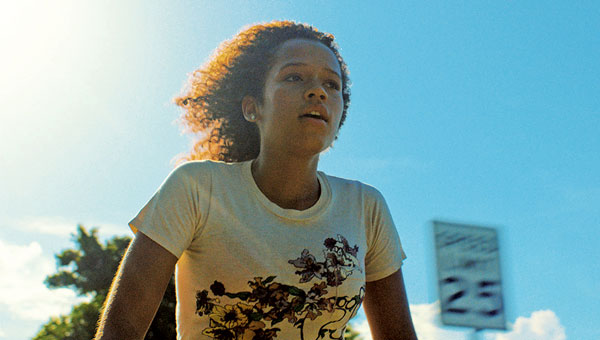 The annual run-up to the Oscars is a funny time of year.
Following the sugary rush of the Summer blockbuster season, momentum generally starts to creep up in the tail end of the calendar year, culminating in a flurry of supposedly superior quality, or at least award-targeting, films.
Released this week, but joining the ranks of woefully overlooked films at this year's Oscars, is Trey Edward Shults' latest film, Waves.
Tyler (Kelvin Harrison Jr) is a high school student who seems to have it all: a loving girlfriend, a caring family, popularity at school and strong prospects on the school wrestling team.
Parts of Tyler's life hint at concern: the emotional and physical tolls that his daily exertions take, which see him falling asleep at church; and the often-overbearing presence of his father Ronald. Ronald (Sterling K Brown) loves and wants the best for his son, but this often manifests as heavy pressure for Tyler.
Without spoiling any plot points, suffice to say that a series of interactions with the key people in Tyler's life, including his doctor, combines to threaten his future in all sorts of ways.
Struggling to cope with these developments, Tyler's control starts to slip away; this ultimately leads to tragedy, the fallout of which is explored through the film.
If the plot seems a little familiar on paper, the way it plays out on screen is anything but.
The innovative use of colour, such as in a passionate seaside scene between Tyler and his girlfriend Lex, lends some visual pizzazz to the storytelling. Combining this with Trent Reznor and Atticus Ross' ambient score pulsating throughout the movie, the film is an absolute feast for the senses.
Playing out against this backdrop is a trio of strong and solid performances, particularly Harrison Jr's bristling pain and anger as Tyler.
Harrison Jr is supported by Brown's nuanced portrayal of the harsh but well-intentioned patriarch and Taylor Russell's equally powerful and internalised performance as Tyler's sister Emily. Lucas Hedges is also good in a gentle and restrained supporting role.
Credit also goes to Drew Daniels' cinematography. From the virtuoso opening shots of Tyler and his girlfriend singing in the car on the way to school, Daniels' visceral camerawork never lets up and echoes the characters' tumultuous journeys.
Shults' script fills out the detail; it's a deft script, never really saying more than it needs too, and overlaying political commentary without it feeling forced.
As the story unfolds, the narrative structure takes a certain turn, which cannot be explained in detail without giving away plot points; for me this choice worked extremely well and made the film all the more richer.
Shults' film left me disorientated in the best of ways, blinking down the road from the cinema and experiencing every sight and sound in a sharper way than before. May it to do the same for you.
Conor Brennan