Emma Review
In order to fully understand the comprehensive and detailed vision of the glorious future promised by those who want Britain to leave the European Union; it is important that we get to really know what motivates these ideological, hard-right, isolationist bigots.
To help explain, Autumn De Wilde, a burgeoning directorial talent of infinitesimal patience spent the summer of 2019 brainstorming with a group of the UK's most influential political minds to make a promotional film, advising the population at large as to what to expect from imminent Brexit.
She had been commissioned by the government to create a visual feast, celebrating the majesty of this green and pleasant land. The early rushes, seen only by a privileged few, were controversially conspicuous by the absence of any black or brown faces. Media outlets were briefed that the director was, in fact, undertaking to bring things back to how they used to be.
Sources close to the project disclosed that those involved were encouraged to socialise in haberdasheries, eat curiously decorated food and talk of unrequited love in chintzy tea shops.
Ultimately the film didn't make it into the public domain, for reasons never disclosed and because I invented the entire episode. Yet admirably unbowed, Ms De Wilde pressed ahead with her vision, deciding instead that what this brave new world urgently required was yet another adaptation of Jane Austen's content-lacking novel, Emma.
Set in the prosperous sunlit uplands of Surrey, Austen's story joins the wealthy Woodhouse family coming to terms with the loss of their former matron, Mrs Weston, following her marriage to a family friend.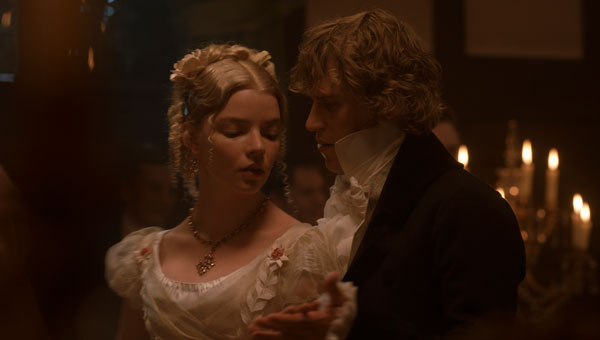 Emma promises her hypochondriac father, played with customary detached confusion by Bill Nighy, that she will not abandon him like the other thoughtless women in his life by selfishly passing away or pursuing her own happiness.
Emma, beautiful, intelligent and perhaps a little indulged, is comfortable with this arrangement, affording her the opportunity to do what she values dearest; meddling in the lives of others.
She is poised, aloof, admired and all too aware of the distinctions of rank, class and status in her world. Disapproving of her friend Harriet's proposed union with a local farmer, Emma persuades her not to accept his hand and to instead pursue that of the local vicar, Mr Elton.
Mr Knightley, a local landowner and friend of the family, in turn disapproves of Emma's influence over Harriet, believing the union to be entirely suitable and Emma's interference to be misplaced.
Emma ploughs on regardless, pausing only to ask about the whereabouts of Mr Weston's estranged son Frank Churchill, whom she crushes on, despite having never met him.
Harriet then has her heart broken by the vicar, who had only really entertained her in a misguided attempt to get close to Emma.
The mysterious young Churchill appears then appears on the scene to really stir it up, much to everybody's excitement. There is a big old dance with lots of lingering close ups of all of the handsome folk as they reconcile their true feelings.
It is perfectly reasonable to ask what does De Wilde's version of Emma offer that wasn't previously explored in the other recent cinema and small screen adaptations.
The answer is not a great deal, although that is not to suggest that the film isn't well put together, or that its central performances from an ensemble cast aren't in any way notable. Just that it feels awfully like a film that wasn't particularly necessary.
And obviously now I will go on to completely contradict this argument. Emma is thoroughly entertaining, utterly lovely to look at and underpinned with a splendid folk soundtrack. Anya Tayloy-Joy is radiant as the eponymous heroine and Jonny Flynn as Knightly and Callum Turner as Churchill are both suitably strapping, yet repressed.
Of course the ultimate triumph of Emma is in its ability to make good the audience's escape from our real-life, slow-motion planetary crash into oblivion. An opportunity to spend a couple of hours marvelling at the nonsense that was 19th Century English life and giggling at its absurd little set of values, is perfectly welcome analgesia from our own absurd little contemporary pantomime shitshow.
Frank Gardiner