Boom Boom Club at The Bathhouse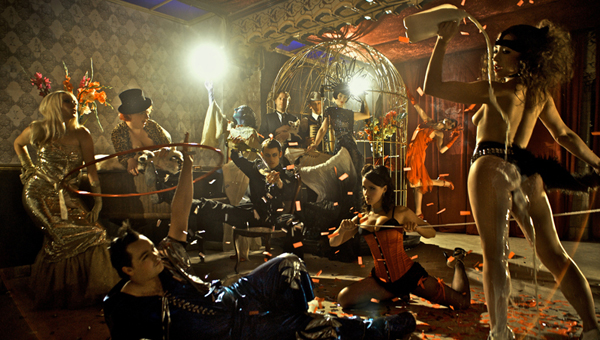 Giles Coren is famous for going on tv and eating like a Victorian.
 
If, like me, you'd rather revel as one; I'd suggest taking your penny farthing for a spin to The Bathhouse.
Hidden away in east London's Bishopsgate Churchyard, you could be forgiven for thinking the entrance to this converted Victorian Turkish Bathhouse little more than a curious architectural footnote.
 
The unobtrusive kiosk is merely the tip of The Bathhouse's iceberg, however, as you descend underground and the venue unfolds into a spacious eating area accompanied by an intimate stage for performances.
Tonight's entertainment is provided by resident burlesque act Boom Boom Club, a carousel ensemble determined to restore the once good name of cabaret that television has done much to besmirch.
Beginning with the staple ingredient of any burlesque evening – dancing girls – Miss Miranda twirls and pirouettes lithely around stage before removing her clothing with an elegance that turned some in the audience green with envy.
Of course, it could also have been the fairy dust she'd bottled up and sprinkled over herself whilst performing.
There's a one man band, magicians with the power to send hands flying across a crowded room, more dancing girls with flaming swords and drunken hula girls who'll make you marvel at the, ahem, proficiency of their muscle control.
My mouth was agog so often throughout the performance that by the end I felt like a remedial dog that had been shown a sleight of hand trick once too often by a machiavellian owner.
Prince amongst Boom Boom Club's performers is the multi talented and compere for the night, Dusty Limits.
Displaying wit, improvisation and a penchant for stealing drinks from malcontent audience members; Dusty stitches the show together with his sharply observed comedy and entertaining musical interludes.
With the emphasis firmly stressed on that final syllable.
This is set against an intimate, baroque performing space flanked by a gilded birdcage on one side and VIP booth on the other.
On hand to facilitate your entertainment for the evening are a collection of glamorous young hosts and hostesses, smartly dressed in their Victorian Sunday best.
With the party season almost upon us, The Bathhouse has plenty more winter delights in store for those of a hedonistic nature.
So I'd forget about trying to stomach how the Victorian's ate, and go party like one instead.
Jonathan Campbell