Mexicans With Guns: Ceremony Review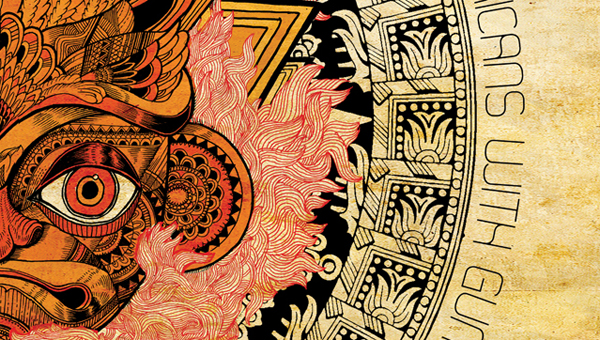 Are You Mexican and do you own a firearm?
The laws of probability, and Soundbite's lack of an Hispanic audience to date, suggest it's safe to assume if you're reading this you're neither. But after listing to Mexicans With Guns, debut album Ceremony, you're going to wish you did.
I stumbled upon Ernest Gonzales' musical project accidentally while on one of my regular hunts for new music. Yet it was the beautiful artwork of Mexicans With Guns album cover, rather than the music of the self anointed "Reincarnated Shaman", that really caught my attention.
And I'm glad it did, Mexicans With Guns is the freshest Dubstep I've heard since Tectonic's Scientist Launches Dubstep Into Outer Space was released in September of last year.
First track Opening Incarnation lets the listener know this is going to be an experimental Dubstep album, with little or no commercial appeal. It reminded me of Nagual Sound Experiments intro to their melancholic and trance infused album Invisible Movements.
This opening song creates a distinct and relaxing sonic presence, only for the Jaguar to shatter this brooding sense of tranquillity in a twisted amalgamation of industrial noise and heavy bass driven by a dark robotic melody.
Ernest Gonzales has concocted a potent cocktail here, blending Dubstep's glut of musical components; we have a bit of robostep here, a dash of "spoon in blender" type shit as well as some ethnic, progressive stuff and some commercial anthems.
Not forgetting a decent amount of powerful rapping over some dope beats.
Highway to Hell stands out as the premier hip hop song on the album, describing a superstitious drug dealer's journey towards eternal damnation as he reflects on all the people he's corrupted along his way. The beat itself reflects a state of limbo, neither too heavy nor too light, and is a perfect soundtrack to accompany any repentant soul's descent to the underworld.
Dame Lo is Mexicans With Guns commercial anthem, and let me say it's a tune I'd take the utmost pleasure in raving too. As something of a staunch non conformist, this is heady praise indeed.
Shuffling along with the masses to a pre engineered money making paean is a position you'll rarely find me in, but I'd make an exception for Dame Lo; a testament to the infectious nature of this song.
Mexicans With Guns makes deliberate concessions to the thriving Dubstep market the UK's enjoying right now. Yet Gonzales encases these in a beautiful Mexican tapestry, deftly weaving diverse musical layers into each other and keeping commercial considerations threadbare; so the South American ambiance of the album shines through strongest of all.
For all the Dubstep fans bored with the predictable incarnation of this genre in the UK right now, I'd highly recommend taking a break from this staid scene and holidaying with Ernest Gonzales' debut album; just remember to leave your guns at home before boarding.
Unless you're Mexican of course.
Kareem Ghezawi