Gabby Young And Other Animals At Koko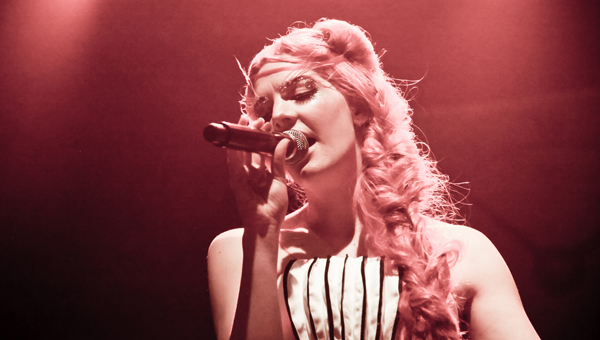 They say you never forget your first time.
Having first tasted the musical fruit of Gabby Young and Other Animals eclectic ensemble last year, that certainly rings true for me.
Infatuated with their debut album We're All In This Together, my curious nature lead me to a fantastic and nautical themed live show they put on at the Tamesis Dock. Now headlining the much larger environs of Camden's Koko, I was intrigued to see how Gabby and her Animal friends live experience would transfer to dry land.
But first to the support act Marcella and The Forget Me Nots, another flamboyant band with an exuberant lead singer who enjoyed vamping her way through a half empty venue.
Unfortunately, their music didn't really seem to live up to the theatre on stage, so my attention drifted to the boutique clothing and art stalls dotted around the lower floor instead as well as the enthusiastic "Gabbyites" scattered around Koko.
No doubt these girls had been inspired to dress with such flair and abandon for the occasion by their larger than life fashion icon; and the bigger Gabby Young and Other Animals become, which they surely will, the bigger their revellers attendant apparel will get.
Now that would be a sight to behold.
Having gained a particularly good vantage point for the main act with my date for the eve, who'd never even been to a gig before tonight, I settled down for what I thought would make her perfect first time.
And even with expectations as high as I had, Gabby Young and Other Animals still managed to blow me away.
Beginning with a choir on their first song Umm, Gabby took to the stage in typical vintage attire.
Typical for her, extravagant for everyone else.
It made me wonder just what kind of outfit she'd wear to pick up some groceries?
My mind soon snapped back to focus with Gabby's powerful and pitch perfect voice though, as she manages to hit notes Mr Buckley would most definitely be proud of while maintaining control of her vocal pyrotechnics.
Never one to rest on her laurels, the choir goes off and the acrobatic and aesthetically pleasing dancing girls come on.
Lengths of ribbon cascade down from the ceiling, where our two lithe performers proceed to elegantly twist and turn their way skywards until they reach the summit of Koko's stage.
All the while, Gabby and her Animals perform Ask You A Question, though they're clearly not the main attraction on this song.
Which only shows commendable lack of ego from the band, and their simple desire to want to entertain with the best possible show they can conjure.
After easing us in with some familiar stuff, Gabby accompanies herself on new acoustic number Male Version Of Me that she dedicates to her secret muse.
This slow burner is almost forgotten in the energy of the loud speaker infused Ones That Got Away, which Gabby promises they've spiced up for tonight to keep their hardcore fans entertained.
True to her word, a dozen or so dancers duly invade the song's musical interlude in full on charleston apparel, throwing jazz hands and so much more in every direction they can propel themselves.
Always keen to be a part of the party, some of the Animals join in with the dancers and show just how much fun these guys have playing music for their fans.
When Gabby returns to the stage, after a change of outfit to something even more elaborate, we're treated to some more new material to feature on their sophomore album next year mixed in with tracks to be found on We're All In This Together.
As well as one that isn't really, Horatio, which Gabby dedicated to an unnamed cowboy tonight.
Being something of a cowboy myself, though perhaps only in my head, this has always been a live favourite of mine. I just can't help but fall in love with the duelling nature of the contrasting musical styles fused together here, theatrically complemented by the on stage duel between Gabby and her brass section.
As always seems to happen when you're enjoying yourself, time flies by and we reach the end of the show.
So Gabby invites all of tonight's extra performers back on stage for one final flourish, which by now also includes a second choir, for the encore finale of Two By Two.
I never forgot my first time, and I guess no one really does.
What people don't tell you is that the second time is even better.
And even though they set their bar impossibly high, Gabby Young and Other Animals manage to pull this trick off too.
Words by Jonathan Campbell, photography by Gem Hall