Mission Impossible: Ghost Protocol Review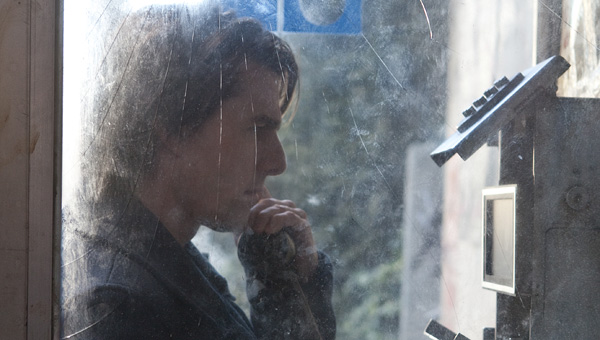 If we don't learn to let go of our past, it will forever haunt us.
Just ask Tom Cruise, the man who used to be king of the silver screen.
Cruise returns as Ethan Hunt in Mission Impossible: Ghost Protocol, another man seemingly haunted by his past as a long serving member of that other IMF on the cusp of a global crisis.
Only this new mission sees us go back in time, figuratively speaking rather than literally.
In Ghost Protocol, America is still the dominant superpower of our age, still in an apparent cold war with Russia and the world is still supposedly at risk of nuclear war.
The scene is set when Hunt, fresh from a daring jailbreak of a Serbian prison, accepts a new mission that requires him to break into the Kremlin on some covert operation.
The details of which are all too swiftly glossed over, and doesn't even seem to matter when an agent of destruction uses Hunt's infiltration as a smokescreen for his own explosive agenda.
Blamed for the collateral damage caused by his new enemy's attack, Hunt is disavowed and turns rogue agent – again – as America's president initiates Ghost Protocol; a move that condemns all IMF agents as terrorists.
There's only one man who can prevent a nuclear war, wreak justice upon those who have wronged him and restore balance to the American way of life.
But as L Ron Hubbard is dead, Ethan Hunt will just have to do.
Mission Impossible: Ghost Protocol is the fourth instalment of this tired Tom Cruise franchise, where poor sequels now outnumber the only genuinely good movie that kicked things off all those moons ago.
In fairness to Cruise and company, Ghost Protocol is easily the second best film in the franchise.
The only problem is it's over a decade too late.
The spy genre has moved on since Cruise was last at the forefront of action films, with more realistic characters such as Jason Bourne and the rejigged James Bond having seriously raised the bar for secret agent films.
So every ill judged decision of Ghost Protocol makes it feel even more out of touch.
There's the depressingly clichéd and predictable opening sequence, where a disposable IMF agent is immediately sacrificed to make this mission "personal" for one of Hunt's supporting cast.
We've got wide of the mark wise cracks from comic sidekick Benji, played by the increasingly humourless Simon Pegg.
While it's important to balance the seriousness of impossible missions with some brevity, the idea that a spy would openly babble on in English to his fellow agent in the field when they're supposed to be Russian officers is totally unbelievable.
And we have to accept that Tom Cruise could actually be a secret agent, and a seemingly omnipotent one at that, when superior actors Matt Damon and Daniel Craig have long since usurped him with their more studied takes on espionage.
Letting go of your past is one of the hardest things to do, so God knows how you do this when you used to be the biggest movie star on the planet.
Perhaps this is Cruise's truly impossible mission.
Jonathan Campbell