The Island President Review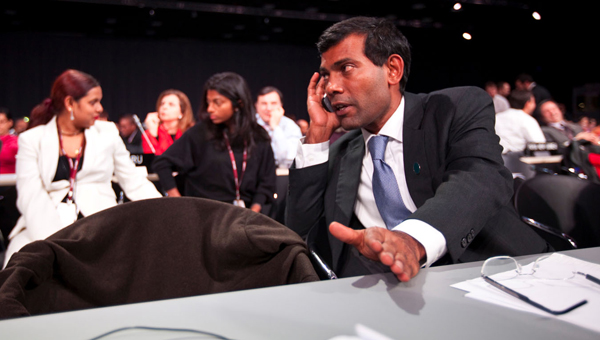 President Mohamed Nasheed of the Maldives is a lot like Reggae; he's an island export that's having a major global impact.
Nasheed is as spirited and as strident as one of Reggae's most famous exponents, Peter Tosh. But it's Tosh's love song Why Must I Cry that most comes to mind as events of The Island President unfold.
This song would serve just as well as to the documentary's soundtrack instead of the now ubiquitous Radiohead contribution, but also act as the perfect lyrical accompaniment; Tosh laments the futility of unreciprocated love and, while Nasheed loves the Maldives wholly, the rest of the world only seems to love the Maldives for her body as they face being swallowed by an environmental crisis.
Nasheed could even be described as a Steppin' Razor; as sharp and dangerous as Tosh only without the brooding menace. His diminutive stature and bright disposition belie a toughness and relentless determination. Nasheed is a man who for twenty years suffered through solitary confinement, torture and exile as he fought for democracy.
Now is he is fighting to save "paradise" from drowning, but was his paradise ever really so? Today it seems unfathomable that the Maldives could have any association with dictatorship, but for thirty years it suffered under the despotic regime of Maumoon Abdul Gayoom.
Director Jon Shenk does a solid job of highlighting this, as well as capturing the almost unreal nature of Nasheed's presidency. He's down-to-earth when meeting some of his local fishermen, candid in most every conversation he has and resolute in his negotiations at 2009's UN Secretary General's Climate Summit in New York and Copenhagen Climate Conference.
This collection of moments lulls the viewer into forgetting that President Mohamed Nasheed is actually a politician and, for a brief time, we are convinced he really is going to make a difference.
At this juncture Tosh might say something like "Hope was my great sin…" and perhaps it is Nasheed's and ours too.
All this reality is competing with powerful fiction too. There have been so many television shows which have mined the backstairs intrigue of government and internal workings of their charismatic leaders that it all feel's very familiar.
President Mackenzie Allen in Commander in Chief and Josiah Bartlet of The West Wing to name just a few have somehow, ever so slightly, dulled the radiant lustre of President Mohamed Nasheed.
Subsequently, The Island President doesn't quite amaze in the way it should; even though the kind of access permitted to a head of state here really is extraordinary and Shenk's capture of so many frank and fraught conversations that impact internationally is a marvel.
Obinna Nwosu