Alex Winston At XOYO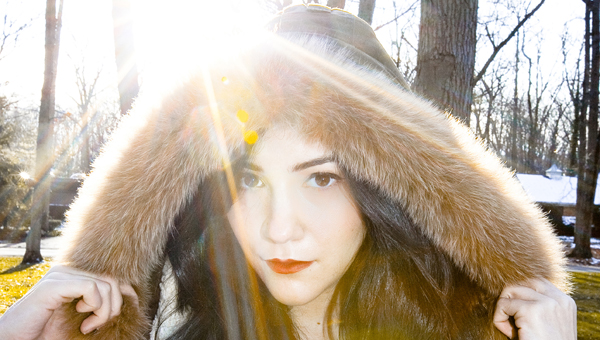 London's a hard crowd to play to. When you're playing somewhere like Oxford, Sheffield or Bournemouth, the crowd is more grateful, more appreciative. Londoners, on the other hand, aren't so easily impressed. We can see any style of music we like, any night of the week.
So it can be daunting to play to a room full of these musically-jaded cynics, especially at XOYO, Shoreditch's international headquarters of the sceptical hipster.
Alex Winston's no stranger to daunting stages though. Her debut album may have only been released last month, but the American chanteuse has already played at Bestival, V Festival and even opened once for Chuck Berry.
Playing second fiddle to Winston tonight were London dream-pop band Exlovers, whose slow and chuggy set was well-received by a small but enthusiastic crowd. With their shoe-gazing melodies and jangly guitars working best on set highlight This Love Will Lead You On, Exlovers sounded like a cross between Yuck and Girls.
Winston and her troupe of musicians took to the stage in theatrical style; the lights in XOYO dimmed and strobed as though a SWAT team might zip-line through the windows at any moment, before a collection of silhouettes loped on to the stage whilst The Animals Came In Two By Two played over the stereo.
Winston promptly leapt into Fire Ant, the opener and lead single from her album King Con, whose closing machine-gun repetition of "fire, fire, fire" saw the diminutive American stomping around the stage.
With her enormous ensemble of musicians, eight including her, Winston joked that she felt like one of the Partridge Family, or worse, the Osmonds. The band's chemistry was palpable and infectious, with Winston's musical family smiling and winking at one each other throughout.
The punchy Run Rumspringa showcased Winston's phenomenal voice, which is all the more impressive live as it sounds no less idiosyncratic or exceptional than on record. Single Velvet Elvis had a huge reaction, with the initially frosty crowd unfolding their arms and leaping around the pit, clapping and whooping.
Winston is clearly a shy character and this comes across in her live persona, but anything she lacks in stage presence right now, she makes up for with her voice. And when she gets going, her vocals will blow the cobwebs from your brain.
Sister Wife and Choice Notes both got huge reactions from the crowd, with Winston grooving around the stage and cooing contentedly with her backup singers.
The intimate cavern of XOYO was the perfect venue for a singer who utilises her vocal instrument so much. By the time Winston's all too brief set closed with Medicine the entire venue was swaying and clapping feverishly, roused by the song's choral tones and irresistible oom-pah beat.
Winston delivered the final number from the midst of the crowd, twirling and dancing zealously as the audience formed a reverent circle around her. Fans took Winston in hand before twirling her around, picked her up or just hugging her; swept along in her unique tidal wave of euphoria.
Whether you like her sound or not, Winston's formidable voice coupled with the undoubted chemistry amongst her merry band of musicians, makes this a live act definitely worth catching.
Words by Tom Hoare, Photography by Guy Eppel