Blackthorn Review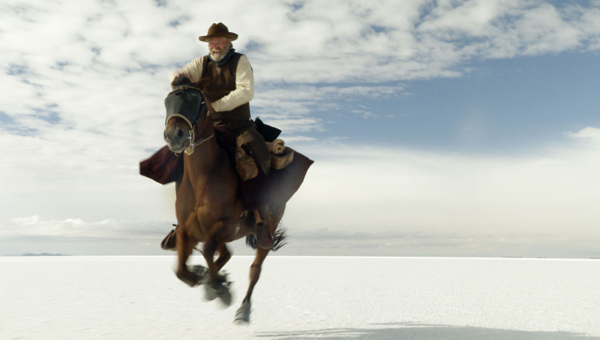 You never met a pair like Butch and The Kid.
Alas, this holds true for most of us; but not a certain James Blackthorne.
Blackthorne's a gringo living out in Bolivia who's looking a little long in the tooth now, though as Mateo Gil's film is set in 1927, I doubt he'd look any better today.
Blackthorne reckons there are two moments that define a man's life; when he leaves home to strike out on his own and when he decides to return.
Having grown weary of living off Bolivia's land, Blackthorne decides it's time he went back home so he can look after his now deceased friend's son.
Having sold everything he owns to provide for his retirement, Blackthorne begins the long and dangerous journey home on horseback, only to be shot at by a Spanish desperado on the lam.
Believing Blackthorne was sent to bring him in, Eduardo Apocada manages to scare off Blackthorn's horse with some errant shooting before coming off second best to the one time outlaw.
Indebted to Blackthorne for losing him his retirement fund, Apocada promises to share half of the fifty thousand US dollars he's stolen if the old timer helps him escape.
Never one to pass up a profit, Blackthorne loads up his guns and rides out for one last adventure before hanging up his stetson.
Immortalised in the brilliant Paul Newman and Robert Redford film, legendary outlaws Butch Cassidy and The Sundance Kid are largely assumed to have been killed in a biblical standoff with the Bolivian army in 1908.
This has never been substantiated though and Gil's Blackthorn gives these two infamous characters a different cinematic ending.
Set twenty years after their seemingly sticky end, we meet a grizzled Cassidy, played with aplomb by Sam Shepard, who now goes by the name of James Blackthorne.
Sundance is nowhere to be seen though, only learning if his fate through Blackthorne's flashback's to his past incarnation.
Being a confirmed admirer of George Roy Hill's film, the chance to watch a little more of this iconic duo was Blackthorn's main draw for me.
But If you're expecting another whip smart bromance about Butch and The Kid, I'm afraid you've walked into the wrong bar pardner.
That's not to say Blackthorn isn't worth watching; it is.
Screenwriter Miguel Barros has crafted a grittily authentic western using characters both familiar and new. Blackthorn's staple ingredient is the same of most any western really; that of men on both sides of the law who choose to live by their own moral codes, and are willing to sacrifice their very lives to uphold these values.
Allied to this is some stunning cinematography of Bolivia's sumptuous natural landscapes, which in itself should be enough to keep you on Blackthorn's well worn tracks.
Jonathan Campbell