All In Good Time Review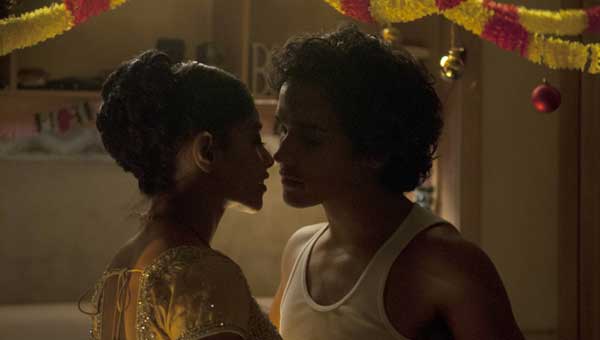 All In Good Time was originally a 1963 play by Bill Naughton, who also wrote another enduring classic by the name of Alfie, then a 1966 film re-titled The Family Way before Ayub Khan-Din's 2008 award winning play Rafta, Rafta; which introduced an immigrant Indian family to the heart of Naughton's original script.
At the risk of offending Bollywood devotees, All In Good Time has a much broader appeal than the all singing, all dancing hyper reality of that world.
From the grey flat caps of the sixties to the shimmering saris of the noughties on display in the sumptuous opening wedding party held in the not so palatial surroundings of a local scout hut, this version launches into lovely comic touches from the very start.
The young groom Atul and his gorgeous new bride Vina cannot wait to get their hands on each other. There's one slight problem though; they're spending their wedding night in the thin-walled house of Atul's parents.
Any burgeoning romance is swiftly quashed by the sound of a toilet flushing, their bed collapsing courtesy of a prank from Atul's younger brother and the bumbling interruption of his whisky drinking father Eeshwar for a late night chat.
Never mind though, for tomorrow Atul and Vina are off to Goa on their honeymoon. At least they would have been if the travel company hadn't gone bankrupt. So the not so happy couple reluctantly have to put up with the continuing lack of privacy at Atul's family home for several more weeks.
The alternating night-time racket of Eeshwar's snoring coupled with our virgin groom's own sexual inexperience provide a continuing obstacle to romance, leaving consummation of Atul and Vina's marriage an ever-retreating possibility.
To make matters worse, a trio of three nosy gossiping neighbours soon ensure everyone in this tightly knitted community knows about Atul's failure to make a woman of his new wife.
Khan-Din and director Nigel Cole have ensured that nearly fifty years on from its original incarnation, All In Good Time has retained its blend of comedy and suffering to complement its universal themes of sexual frustration as well as the eternal conflict between parent and child.
Apart from Meera Syal as Atul's mother Lopa, there are a couple of recognisable if not well-known faces cast her; a wise and possibly brave move from which All In Good Time undoubtedly benefits. All too often hollywood names are inappropriate shoe-horned into unsuitable roles to help sell films.
All In Good Time may occasionally feel a little formulaic with some predictable resolutions, but that's because it's essentially a romantic comedy, albeit one with substance, and it has many laugh-out-loud moments.
Malcolm Newton