Bosnian Rainbows at The Garage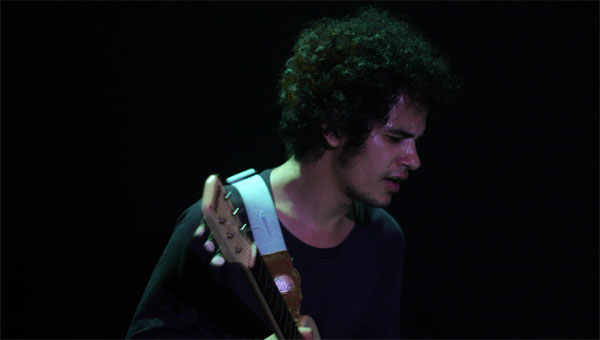 True happiness; it's what we're all searching for, yet it always comes at a price.
Omar Rodriguez's latest musical side project, Bosnian Rainbows, hit London town last week to entertain his most faithful alt rock folk at The Garage.
Having been a fan of first At The Drive In, then a fan boy of The Mars Volta, I've done my best to keep pace with the eclectic solo career of the main man behind the music of both these now seminal alt rock groups.
This hasn't always been easy.
The sheer depth and breadth of Senor Rodriguez's creative output has turned him into something of a one man recording machine.
Collaborating with musicians like John Frusciante, Damo Suzuki, most of Hella and any other creative soul who comes across his path, Omar has produced a fierce collection of solo records that are distinctive for their fearless approach to experimenting with music.
And Bosnian Rainbows are the latest chapter in his musical canon of new sounds.
Fronted by Terri Gender Bender, Omar's new musical muse and lead singer of Le Butcherettes, with The Mars Volta drummer Deontoni Parks also on board and Dark Angels' Nicci Casper doing his keyboard thing, I'd only managed to listen to their Octopus Kool Aid album once ahead of their north London gig.
I guess the price you have to pay to keep up with your own creative projects is that you have less time for other peoples.
Not that it matters, as the sounds that came from the stage are defiantly recognisable for anyone familiar with Rodriguez's solo work; not necessarily through any actual sonic trademarks, but that spirit of eclecticism and adventure that permeates his solo music.
The first thing that struck me about a live Bosnian Rainbows show is just how accessible their music is.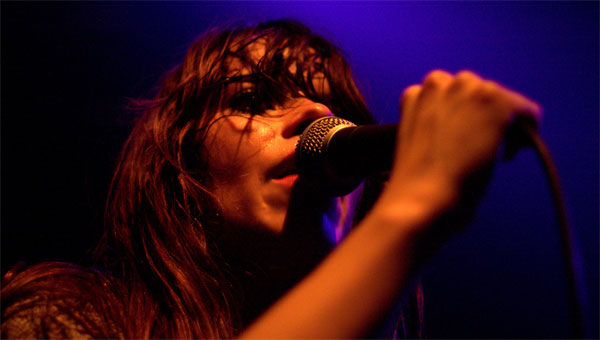 With their roots seemingly grounded in electronica rather than swirling guitars, their songs are far poppier then anything else I've come to expect from an Omar Rodriguez Lopez production.
But my lasting impression was of how happy Omar looks on stage, swinging his guitar around as he did in those whirling dervish days of yore.
Free from the restrictions and expectations of his more famous bands, Omar seems reborn as he paints with different brushstrokes on his new musical canvas.
And the energy Bosnian Rainbows bring to Islington is dizzying.
Terri Gender Bender prowls the stage like a black widow spider, dancing around with her arms flailing in whatever sharp angles her energy takes her in.
There are several points during the evening where Bosnian Rainbows' fearless front woman disappears from sight to all but those at the very front of the stage, only to reappear by either somersaulting off a wall and back towards centre stage or diving into the crowd as they hold her aloft like some modern day musical messiah.
The music tonight still feels slightly embryonic, as if their next album will really hear Bosnian Rainbows nail the particular sound or voice they're reaching towards, but there are still plenty of great moments at The Garage tonight.
And this is usually whenever the band are able to improvise towards the end of songs, with their music breaking free from the rigid confines records put in place that turn sounds into songs.
The overall experience of everyone on stage and off is so joyful, it makes you wonder why people continue to do things that don't make them feel happy.
Maybe the price of pursuing your own happiness is that you'll end up making other people sad.
Jonathan Campbell