Soundyoucansee at The Macbeth
Soundyoucansee is a new monthly night at The Macbeth promising an eclectic line-up of the latest music London Town has to offer. As Barry, one half of SYCS says "The Macbeth's great 'cos when you're in, you're in".
Indeed, it looks like many a happy and sweaty night has been had here.
The night begins inauspiciously as the bus I'm waiting for goes from due to disappearing off the face of the earth, which is hardly surprisingly given the precipitation in the air tonight.
It is absolutely drenching it down and an old boy has already taken a puddle from a miscreant bus tyre. I plod off to seek an alternative route.
I find one but it's not long before some young girls get on the bus and proceed to play "Boom, boom, boom. Let me hear you say wey-oh!"
How that Outhere Brothers effort survived from the nineties to now, I'll never know. But if that's what's made it, maybe I'm not qualified to write about music after all.
Happily, the music on offer at Soundyoucansee is far more pleasing to my ears.
First up are Darkshaft, a ferocious tattooed two-piece and pierced ear outfit replete with the shaved bits-long hair combo.
Billed as a cross between Sepultura and Johnny Cash, they bedazzle with a truly mesmerising blend of musical styles, all underpinned by yelps, screams, blistering riffs and a battery of drums. That Darkshaft are enjoying themselves is Obvious when they shout out "Anyone here on a date tonight? No wait, anyone on a date where you haven't fucked her yet?"
You won't be shocked to discover no-one ventured a hand skyward.
"Well, if you are then this is the second best ten seconds you'll get tonight", and with that Darkshaft launch into an ear shredding, metal growling sonic assault.
For ten seconds.
All-in-all, one of the most surprising bands I've seen in many a night, and they even manage to blend a partial cover of EMF's 'Unbelievable' into their set.
Now that's a song from the nineties worth saving, I think.
Next up are The Graveltones, another two-piece offering up blues inflected garage and, ah, blues. If that makes them sound a bit like the Black Keys, well that's because they do.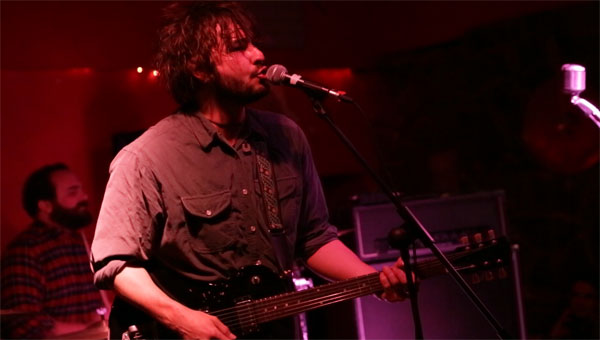 With some quite remarkable drumming and a spot-on rendition of John Lee Hooker's 'Boom, boom, boom' to close their set, I ask myself if everyone will do a cover tonight?
Gorgeous George are the last to take to the stage and they break the two member rule for the night by incorporating a musical troupe of brass instruments, violin, acoustic guitar and bass.
It's eastern European Gypsy music Jim, but not as you know it. That's right, these boys are cock-er-neys, regaling us with tales of everyday travails from the Big Smoke.
Their sound is akin to Chas 'n Dave going on holiday with Gogol Bordello, and I guess that's where they picked up Miss Ayia Napa who's the star of the song with the same name.
And the answer to my previous question is yes, as the boys break into a sing-along of the Tetris tune. The "la la la la's" are as sarf london as you'd expect, but the band are tight and well honed.
Gorgeous George may be a little one dimensional, albeit a dimension they've mastered, but the girls at the front of the stage are still happy, jigging and jiving along while what looks like a lost, drunk Spanish man arrives at the back to show off some spinning moves from his flamenco feet.
Banter abounds, the night is wrapped up and Barry whispers to me, "Where else would you hear bits of grindcore and cockney gypsy music on the same bill?"
Quite, I just hope Darkshaft's verbal foreplay with the crowd tonight hasn't given Barry any other ideas about what else is on the agenda tonight.
Ed Spencer