The Wall Review
In a world of shadows we find a woman hunched over a table, writing manically.
The lead from her pencil and dirt from the earth seemed to have found a common home in her hands as she scrawls on yellowing pages in a barely legible type by the light of a single lantern.
Suddenly we're gone, out on the open road, winding our way between valleys and mountains on a picture perfect Austrian summer day.
The woman is in the back of the car, her short hair is now long and luxurious, and the sun has yet to mix freckles into the complexion on her face.
Soon they pull up at a beautiful cabin in the woods. Leaving her at their cabin for the day with their dog Luchs, the woman's two friends, Hugo and Luise, head to the nearby village for the afternoon.
Yet they never return.
The morning after, our unnamed woman heads out to the town, worried her friend Hugo may have had a heart attack or been waylaid by some other such grievance.
Only when she walks down a puzzlingly empty road in her white cashmere dress and couture wedges, the woman walks right into an invisible wall.
Nothing can get past this cold and impenetrable obstacle blocking her path, and its mysterious heartbeat that hums around its edges.
With only Luchs at her side, said woman begins to explore her newfound prison whilst trying to understand what has happened to leave her locked away in this private world.
Beyond the edges of her wall she can see an old couple frozen outside their cabin, as if they were statues rather than humans.
For this reason she begins to believe that the world out there must have been visited by death and with no other thought beyond the need to go on living, the woman prepares for all that may lay ahead.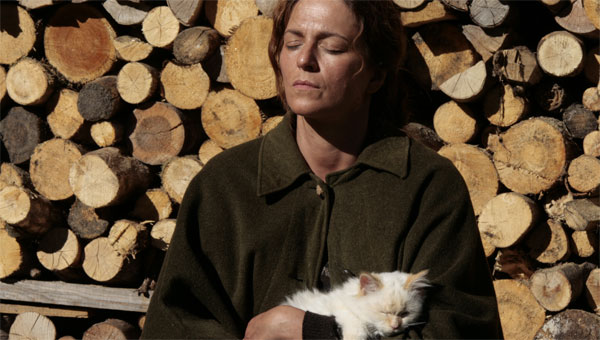 She discovers a cow that she names Bella; she finds a cat cold in the rain. There is hay in the meadow she must harvest and wood she must collect. Life all be it a strange one, begins to roll past.
Based on Marlen Haushofer's The Wall, Julian Roman Polsler's film of the same name, is a meditative exploration of humanity in isolation.
Starring Martina Gedeck as the woman with no name, The Wall tells the story of our unnamed heroine's search for herself in a world robbed of everything she's ever known.
Told as if the woman was reading out loud entries from the novel she was writing at the start of the film, The Wall unfolds in a languid and meditative manner.
The scenery is exquisitely beautiful and masterfully framed by Polsler, who crafts an elegantly slow film that achieves the seemingly impossible trick of being as captivatingly gorgeous as a Friedrich painting whilst maintaining a sense of un-mitigating claustrophobia.
Much like the snow that settles down in winter, the dialogue floats past almost ethereally; its words seem weightless till one finds themselves deeply absorbed in its languid language.
I also felt captured within the Austrian Eden of this mythical movie, which is why the moment of rupture The Wall works towards is so jarring but also strangely perfect.
I've hardly spoken since leaving the screening and, as I write this down on the central line as it hurtles me towards home, I can't help but wonder how I'd feel if I was left all alone in this world.
Shelton Lindsay