LIMBO Review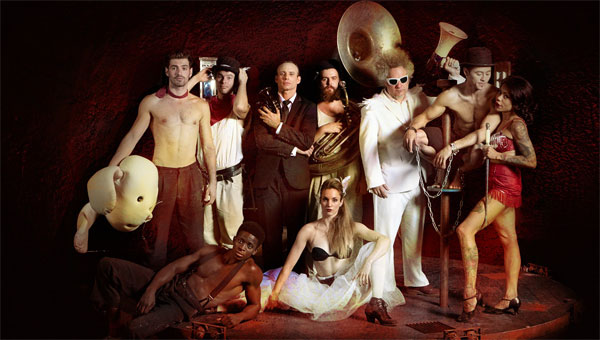 Wandering out of the Wonderground on London's Southbank, I find myself struck still whilst memories of awe flood through me.
I keep expecting magic and mystery to manifest around every corner; for jets of flame to shoot from the sky; for hunky men to go sailing over my head; for everyone I pass to start back flipping in the streets.
And though my imagination is normally rather vivid, tonight I'm sailing the magical seas of some other people's vision.
LIMBO, from the production team that gave us Cantina, is not your typical cabaret.
Eschewing the traditional format of set pieces dominated by a singular performer, LIMBO focuses on group interaction, multiple lines of simultaneous performances and a near constant feast of visual excess.
Sure, every star has his or her turn in the centre ring, but more often than not the stage instead plays host to a delicious amount of frenetic excess.
To speak of what happens within the Cabaret would violate its secrets, rob you of its magic, so let me tell you about the real stars of the show' the performers.
Danik Abishev delivers some incredibly harrowing and shirtless acrobatics, flipping and jumping with such inhuman speed, that my own movements began to feel like the inept shuffling's of tectonic plates when compared to his muscular fluidity.
Mikael Bres, another shirtless wonder, could be my perfect man; with a seductive accent, penchant for beat boxing and a love of the, ahem, chinese pole. Every move he makes is infected with a rogueish seduction that glints from his heavily guy-linered eyes.
Hilton Denis and Jonathan Nosan continue LIMBO's wonderful tradition of performing sans shirts, delivering some phenomenal physical and comic performances. Denis shows off his amazing dance moves, tapping and flipping his way through the entire show, whilst Nosan manages to meld humour into his very being whilst contorting his body into inhuman poses.
All the while, these two deliver endless beaming smiles that will steal your hearts whilst they steal your souls.
Evelyne Allard, who's clearly a very talented performer, never really gets to shine. Her act closes the show and, though beautiful, is oddly out of step with the rest of the production. Yet her angelic disposition makes her eminently watchable.
The most wonderful attraction at the Wonderground though is Heather Holliday. Every time she takes to the stage, every eye in the room fixes on her as she moves with vulpine grace. Once in a while you feel blessed to be in the presence of a real talent, and this is something Miss Holliday has in spades.
For me, LIMBO is sensational, but it's not perfect.
Composer and musical director Sxip Shirey is an exceptionally talented musician, and his cabaret's musical landscape is intoxicating, but unfortunately Shirey's lack of showmanship compared with his fellow performers mean his frequent forays into the limelight leave the audience cold.
To make matters worse, the half-baked plot line of being caught in "Limbo", which is distracting and poorly deployed, revolves around Shirey's character, leading to prolonged moments of confusion whenever he's present.
There are several odd moments too, most notably an oversized and out of place rabbit head that leaves the audience baffled.
Since there's so much happening all of the time, perhaps I simply missed out on some of the meaning behind this; and as each seat seems like it would offer a unique experience of the production, LIMBO begs repeat viewing from this soul.
For beyond these moments of confusion, or disappointingly inarticulate plot lines, LIMBO continues to shine.
Watching this show is like being carried away on a perfect storm of unbridled desire that'll leave you amazed, awe-struck and enraptured by the possibilities it presents.
Besides, if like me you find yourself more than a little in love with a certain Heather Holliday, who could skewer your heart with a smile before serving it back to you medium rare, You may not be able to keep away.
Shelton Lindsay