Thriller Review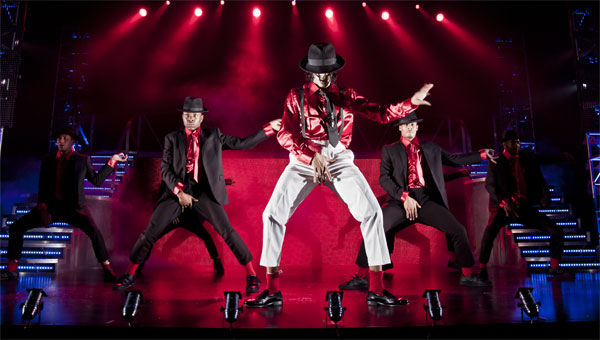 Like most right thinking folk, I'm not much of a Michael Jackson phile these days.
Call me crazy, but I don't care much for a performer's musical legacy once they've been continually accused of performing acts of a smooth criminal.
Which is a shame really, because there aren't many musicians with a back catalogue that can compare with the artist formerly known as Michael Jackson.
And Adrian Grant's take on the former child star's legacy, Thriller, leans heavily on the happier times for the most famous member of the Jackson clan.
Which is probably why it chalked up its 2000th west end performance last week.
Kicking off with the past, Thriller begins with a miniature version of the king of pop, when he was the biggest jewel in the Jackson Five's crown.
Admittedly, the imitation group here with their on trend again plaid trousers and occasional dyed blonde hair resemble more of a modern day boy band than the original Jackson troupe.
And this modern take even extends to some rather obvious lip synching, which I found hard to fathom.
It's bad, and yes I can feel it.
What's the point of a live show that fakes it, especially when you go to the lengths of having a live band stowed beneath the stage?
But this is pop, so I guess it's my fault for expecting things to be real.
The many ages of Michael Jackson move swiftly on to the Jackson Five's more soulful and disco flavoured tracks.
Only now the five boys have their shirts open to the navel, and flirt with becoming the Jackson Five's first gay tribute act.
Michael's also become a man now, which is reflected in the revolving cast who take it in turns to play the most famous Jackson of all.
Now this makes a lot of sense at first, until first a woman and then some white boy rock up to sing Jackson songs later.
Obviously Michael had his fair share of issues, and there were times in his life where he more closely resembled both women and white folk than his true self, but this just feels like taking the Michael to dangerous new levels.
Pretty soon we're all invited to get up out of our chairs, before waving our arms in the air in the manner of someone who finds it difficult to worry what other people may think.
Caring about other folk's opinions is not something that comes naturally to me these days, except when it comes to making a fool of myself in front of a room full of people I've never met before.
Or what normal people call dancing.
So as I start shaking my body all the way to the ground in the manner of a man who has only the most tenuous grasp of both rhythm and rhyme, I feel it apt to point out that the dancers and choreography for Thriller are simply amazing.
From standing still back flips, to break dancing tricks via the synchronised symmetry of a dozen or so dancers dressed up in various Jackson influenced costumes; Thriller most definitely delivers on the dance floor.
Just as Michael Jackson undoubtedly delivered with his music.
It's been almost a week since I saw the show, and I still catch myself singing refrains from I Want You Back, Rock With You and Don't Stop Til You Get Enough.
Much to the delight of my fellow public transport aficionados.
With a format inspired by the reality tv show era we live in, Thriller is an entertaining if somewhat Stalinist take on the best that Michael Jackson had to offer.
As for the king of pop's worst, that's been whitewashed.
Jonathan Campbell