The Hobbit: The Desolation Of Smaug Review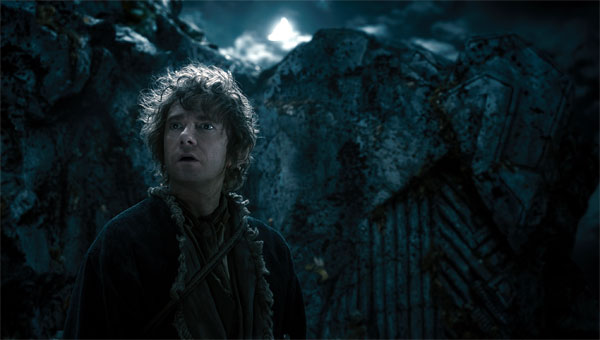 After a certain hobbit's unexpected journey, we now have the desolation of a dragon called Smaug.
Try turning that into a short, clever intro.
Beginning with the past, and a less than chance encounter between Thorin of Oakenshield at a familiar public house known as The Prancing Pony, as well as an equally familiar cameo from a certain kiwi director with a fondness for carrots, we quickly return to something a little closer to Middle Earth's present day.
Well, in terms of the story Bilbo Baggins is telling anyhow.
Having finally won over all the doubting thomas' amongst his vertically challenged travelling companions, Baggins is now driving his dwarven brethren towards their former home of Erebor.
Along the way they meet skin changers, giant spiders, elven royalty as well as hotties of every persuasion, lake folk, necromancers, Stephen Fry and, of course, a certain dragon with a hot temper.
Will Bilbo and friends make it through all these adventures unscathed?
Well, it's only the second part of a trilogy and a prequel to boot, not to mention that the story's being told in flashback, so it wouldn't take Gandalf to work this one out.
The Hobbit: The Desolation Of Smaug is Peter Jackson's latest instalment in the pioneering director's newest adaptation of a Tolkien classic.
And even though I haven't read The Hobbit, it's fair to say some emphasis should be added to the adaptation part.
Like most non-shire dwelling folk, I was a little underwhelmed by The Hobbit: An Unexpected Journey.
After the unexpected wonder of Jackson's epic Lord Of The Rings trilogy, there just wasn't enough menace in his follow up middle earth fantasy to satisfy my appetite for destruction.
But seeing as The Hobbit was written with children in mind, why should Jackson cater for my tastes?
So I was pleasantly surprised by the dark and far more adult tone throughout The Desolation Of Smaug.
Setting off with a hallucinatory trip into a murky forest, complete with luscious visual effects and Bilbo's dawning realisation that his precious ring is affecting more than just his visibility, every little thing about this hobbit film is magic.
At least that's how it feels compared to the occasionally laboured unexpected journey.
From being introduced to old friends like the strangely fuller faced Orlando Bloom as a younger Legolas, new ones in the beautiful Evangeline Lilly as our elf's would be crush Tauriel, before the fiery form of foes both familiar and dragon shaped raise their heads in the second half of the film.
Benedict Cumberbatch as the voice of Smaug, the slumbering dragon who scorched the dwarves from their mountain kingdom, has a reunion of sorts with his Sherlock partner in crime fighting; only it's Martin Freeman's more elementary qualities that have star billing this time around.
The only real problem I have with The Desolation Of Smaug is the near three hour running time, which now appears to standard for event films of this kind.
That's all well and good for the extended home entertainment versions, but when going to the cinema starts to feel like an endurance test it naturally makes for a less enjoyable experience.
So it looks like I'm not the only one who needs some help keeping things short.
Jonathan Campbell