Dear White People Review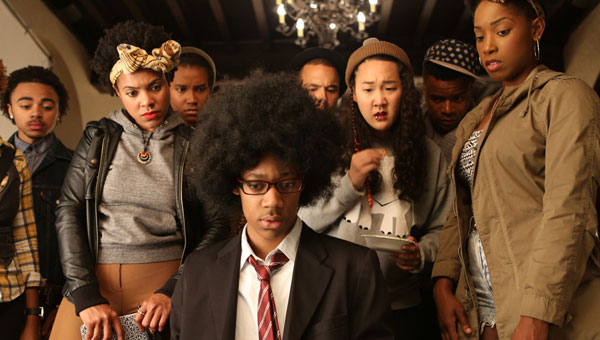 Justin Simien's debut feature, Dear White People, is intelligent, stimulating and has a lot of points to make.
My big question is, does all this make it a good film?
Coming across as the lovechild of Spike Lee and Dawson's Creek scribe Kevin Williamson, the world depicted by writer/director Simien is populated by incredibly articulate college students, breathlessly reciting vast swathes of impressive, polysyllabic dialogue.
Even when drunk or stoned.
Taking its time to set up the main characters, we are gradually introduced to some of the inhabitants of Winchester University, a prestigious US college.
There is golden boy Troy (Brandon Bell) and crass Kurt (Kyle Gallner), respectively the sons of the college's dean and president.
We also have aspiring reality TV star Coco (Teyonah Parris) who learns that controversy is more useful to her ambitions than conformity.
It is, at heart, an ensemble piece, but the film arguably centres on Sam White (Tessa Thompson), who runs the college's radio show, 'Dear White People', and Lionel Higgins (Tyler James Williams), a shy loner who is struggling to find his place within the student body.
Sam unwittingly debunks Troy as elected head of house and finds her now-found position useful in asserting her beliefs beyond the bounds of the radio show.
Meanwhile, Lionel is enlisted by one of the college's respected publications to write an article on what it means to be black at Winchester.
Both plots culminate in an on-campus party which has been organised in extremely poor taste and proves more than a little incendiary.
Dear White People's most disturbing revelation is that such parties seem to actually exist in the present day across some US colleges.
There is also a subplot about the rivalry between the college's dean and president, in which their sons find themselves more or less embroiled.
The relevance of the subject matter is unquestionable, universal and should transcend most issues but the primary boundary here is a cultural one.
Dear White People focuses heavily on the hierarchy of US college publications and the vagaries of US student housing, which seem quite different from this side of the pond.
The Young Ones, this ain't.
The remaining issues are the hurried pace, which gives the viewer little time for pause and reflection, and the sheer abundance of themes explored, such as race, gender, social class, sexual diversity, student politics and the power of media.
As a result, the characters seem largely reduced to vessels through which to deliver the script, and intelligent monologues feel mostly like forced recitations than natural delivery.
That said, both Williams and Thompson give decent performances in their roles, jointly affording the film some level of emotionality which the other characters fail to provide.
And amidst the Dear White People's heavy politics, there are attempts to lighten the story a little by anchoring it on familiar student flick tropes, such as ill-advised coupling, boozy shenanigans and gaudy declarations of love.
Ultimately, Simien's script a lot to say and is passionate and enthusiastic about delivering its messages, albeit at the detriment of the film's structure and character development.
Conor Brennan