Just Jim Review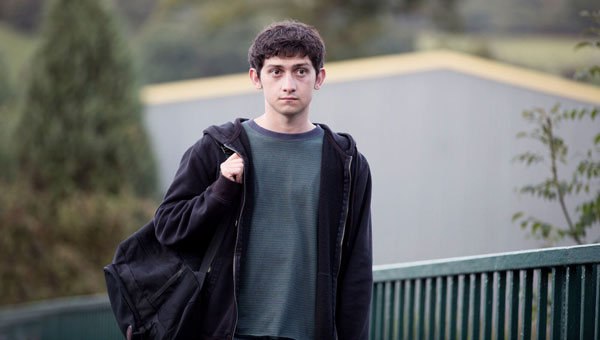 You are young, handsome and disaffected. Film convention would have it that you are required to rebel against your surroundings. Maybe smoke the odd banana skin.
Sniff an aerosol.
Call an adult role model a nit-wit.
Perhaps offend a young lady.
But what do you do when you are young, disaffected and Welsh?
It transpires not a huge amount, if you are the hero of Craig Roberts' writing and directorial debut, Just Jim. Like a lacklustre Holden Caulfield suffering from ME on a cloudy day, Jim, also played by Roberts, sleepwalks in slow-motion through the run-down, Welsh town of Maesycwmmer.
Family black sheep, school outcast, community pariah, Jim takes solace in the town 'characters'. A gibbering ex-serviceman he meets when walking his dog offers friendly and appalling advice before jumping off a bridge. His repeated trips to watch the same, and in no way allegorical, old school gangster movie are punctuated by surreal David Lynch style encounters with Beatrice, a paranoid usherette, who is convinced the walls are talking to her.
Jim's school head teacher, on the verge of a breakdown, encourages him to join the cross-country team. Jim isn't very good at running.
Bullied by the local moron, ignored by his family, rejected by Jackie the object of his affections, who is convinced he's called Roger.
Even his dog runs away.
But then Dean, a handsome and mysterious American, played by Emile Hirsch, moves into the vacant house next door and takes pity on Jim. Dean resolves to pull him from his torpor, in between attempts to seduce his mother. Beverages are shoplifted, hairstyles re-thought, parties thrown, substances abused, some clothing is removed and punches are landed.
But is Jim happy now he is cool and a bit psychotic?
As writing and directorial debuts go it is clear that Roberts has plenty to fall back on if the acting career and Alex Turner tribute act go belly up.
Just Jim is a well-made, unapologetic and occasionally dark study of alienation and outsiders. Roberts employs distinctive directorial styles that neatly frame the film into two parts, before and after the arrival of Hirsch's Dean.
Although, he does manage to make the viewer sympathise and at the same time laugh at his pathetic attempts at integration, Roberts doesn't fully convince as Jim, being too old and knowing to play a clueless schoolboy.
Charlotte Randall as Jackie is charmingly oblivious and Hirsch does a passable Jack Nicholson impression as the throwback Dean.
But perhaps the film's cleverest touch is its cinematography and framing of small town Wales which has a surprising and evocatively nostalgic feel to it.
Especially odd, considering the perspective of your dashingly romantic and mysterious correspondent who grew up in the city spending far too much of his adolescent free time looking for bits of dried up fruit to imbibe.
Frank Gardiner