Carol Review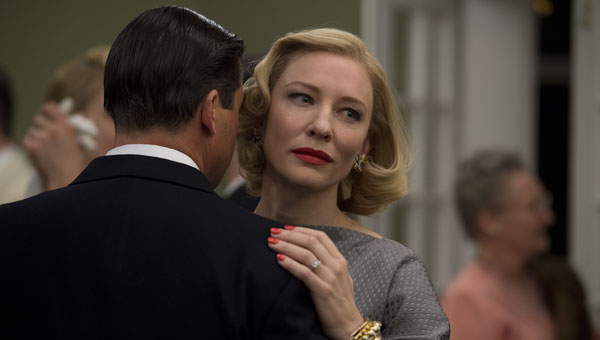 Todd Haynes was one of the many auteurs I remembering emerging during the boom 'indie' period of the nineties, the formative years of my movie-watching life. His peers included the likes of Tarantino, Smith, Soderbergh and Solondz, to name but a few.
Making his name with more left-field fare like Poison and Velvet Goldmine, Haynes' more recent, albeit sporadic, feature-length work included Far From Heaven, an Oscar-bothering film about social taboos and forbidden love.
He returns to this same territory with his latest work, Carol, based on a semi-autobiographical Patricia Highsmith novel and rumoured to be up for the best picture Oscar next year.
This is essentially a 1950's-set love story between the eponymous heroine (played by Cate Blanchett), a wealthy Manhattan divorcee, and Therese Belivet (Rooney Mara) a young shopgirl.
The story beings through the eyes of a minor male character, intruding on a clearly intense encounter between Carol and Therese, at which point Therese is reluctantly dragged off to a party and starts to think back to her first meeting with Carol.
The story is then told in flashback, showing how the pair first met in a department store at Christmas. Therese was invited back to Carol's house, much to the chagrin of her separated husband, Harge (Kyle Chandler).
As Carol and Therese's relationship strengthens, so too do the various threats conspiring against them, not least Harge's custody battle over his and Carol's young daughter.
Ahead of its release, the film has attracted a veritable constellation of stars from critics.
But the underlying question remains: is it any good? For the most part, yes.
Blanchett is solid in the lead role, arguably resembling a more "together" version of the character she played in Woody Allen's Blue Jasmine. Sarah Paulson, of American Horror Story fame, puts in a strong supporting turn as Carol's previous flame and now friend.
Kyle Chandler simply adopts a near-permanent hangdog expression as Carol's husband, but admittedly does a decent job to bring dimension to an antagonistic role, juggling bitterness with heartbreak.
Good thing too, for the film is pretty short on the ground with sympathetic male characters. Most seem to be hellbent on frustrating the film's central romance, be they in the form of Therese's single-minded boyfriend, the work colleague with an agenda or Corey Michael Smith's mysterious stranger.
Out of the main characters, Mara is particularly impressive as the infatuated Therese, evoking Audrey Hepburn, but still creating her own character. One would suspect Oscar may knock on her door early next year too.
The performances therefore are the key draw here, followed closely by the production values, with the set design and costumes culminating in a vivid depiction of the fifties.
This languorous brand of melodrama may not be everyone's cup of tea. Slow-moving with lingering camerawork, anyone expecting even mildly edgy dialogue or an intriguing story will be disappointed. The trajectory is largely predictable and whatever is said, is said mostly through passing glances or loaded stares.
In short, it is reasonably clear why critics are hailing it as a masterpiece. It just may not be everyone's masterpiece.
Conor Brennan