I, Daniel Blake Blu-ray Review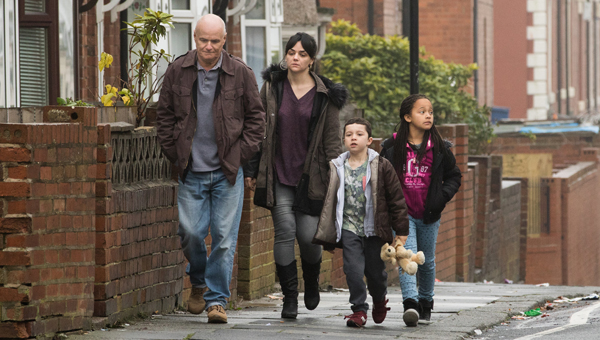 Not exactly being of 'Kes' vintage, I can say that I have been a big fan of Ken Loach's work since 1998's My Name is Joe. Though it is fair to say that he is not for everyone.
If escapist, lighthearted fare is what you are after, there are definitely easier filmographies to chew popcorn to.
But if you want to stimulate political discussion, Ken is your man. And his latest work, I, Daniel Blake, is no exception.
The film, out on blu-ray this week, tells the story of Daniel, a gruff Newcastle carpenter, who is recovering for a recent heart attack. We first meet him through an interview with a 'healthcare professional' who is employed by the state to assess his ability to work. They ultimately decide that he is.
The doctors and cardio specialists are all meanwhile telling Daniel that he is unfit for work, which means he should be entitled to certain disability and sickness benefits.
But because the earlier assessment deemed him fit to work, his sickness benefits get cut off and he is only entitled to jobseekers allowance.
Which he cannot claim because he is not actively looking for work.
Because he has been deemed unfit to do so by specialists.
You can quickly see the hopeless cycle in which Daniel is trapped.
In the midst of his struggles, Daniel crosses paths with a young, financially-struggling single mother, Katie, and her two children, Dylan and Daisy.
In contrast to the red-tape-strewn treatment which he is currently experiencing, Daniel's policy is to help others in need if he can. Which he does, by helping to fix up Katie's flat, sparing cash for her family when possible and, despite the strains of his own personal position, providing a great level of emotional support.
The question remains: will Daniel be strong enough to beat the system?
The film is a bit of an emotional rollercoaster. Poignant and sad moments are inevitable given the subject matter, but the injection of dark humour was as surprising as it was welcome.
One of Daniel's early phone calls, when he eventually gets through to the right department to speak about his benefits, is extremely funny in a perverse way as we share Daniel's mounting frustration in the face of policies and procedures trumping common sense.
Audiences have debated about how much rings true of the film's portrayal of the benefits system as an unrelenting, Kafka-esque nightmare under which everyone suffers. Whilst
there are undoubtedly real-life Daniels and Katies out there, the depiction of any of the government figures as heartless automatons feels a tad one-sided.
That aside, there is no denying the strength of the performances.
Dave Johns, in his feature film debut as Daniel, is just superb, confidently but carefully treading the line between bristly and sympathetic. His anger is palpable but never alienating.
Hayley Squires is also impressive, putting in a very raw performance as Katie and admittedly drawing many a tear.
A powerful film with terrific performances which, as with all Loach films, will make you think a lot more about how we fit in to the world around us.
Conor Brennan