Mindhorn Blu-ray Review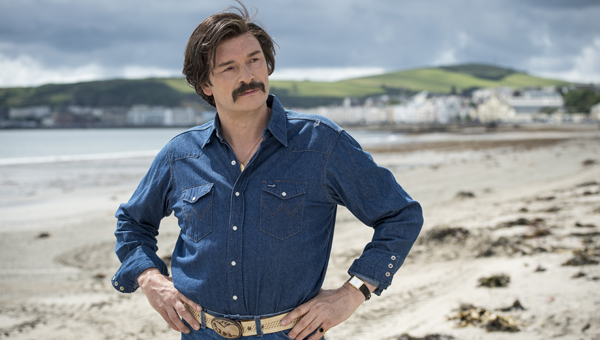 The Mighty Boosh was a phenomenon that admittedly passed me by. Sure, I knew who Noel Fielding was, but Julian Barratt was relatively unknown to me.
Until now.
Barratt writes and stars in Mindhorn, out on Blu-Ray, DVD and digital download this month.
In the 1980's, Bruce Mindhorn was a fictional Isle-of-Mann-based detective with a bionic eye which can read people's minds.
Yeah. You heard me.
Mindhorn was played by Richard Thorncroft (Barratt), who, jumping to the present day, is a washed-up actor living in Walthamstow and begging for parts.
In short, Thorncroft's plans, to break Hollywood thereby forgoing his roots, have not quite worked out. And the people he left behind have not forgotten.
When a suspected serial killer rings the police on the Isle of Mann, he demands to speak to 'Detective Mindhorn', believing the character to be real despite all protestations.
To stop the killer, the police reluctantly believe they have no other option but to enlist the assistance of the actor who played Mindhorn.
Thorncroft's agent sees this as somewhat of a gig and Thorncroft himself gradually views the situation as an opportunity to get his superstar mojo back.
So that's the set-up. And as a set-up, it has a lot of promise. Particularly, when you have someone like Barratt in the lead role, pulling off right mix of charismatic self-believer and has-been loser.
As Thorncroft's former leading lady, both on and off screen, Essie Davis as Patricia Deville is good too, fitting the part perfectly.
It's a shame then that the other pieces don't quite fall into place.
Mindhorn's recipe seems like a dash of Hot Fuzz, a smattering of Alan Partridge and a heavy dusting of Garth Marenghi's Darkplace. All delicious ingredients, I'm sure you'll agree. Yet somehow the overall taste feels, well, a bit off.
The latter two had time to breathe as TV shows, whilst Mindhorn needs to establish several things within a running time just shy of ninety minutes. The need for a plot, silly as it is, to string together the characters' interactions therefore feels shoehorned and half-hearted at times. Particularly when it comes to the lazy ending.
True, Messrs Wright, Pegg and Frost have managed to sidestep the above pitfalls several times with the aid of a well-rounded roster of comic talent. Mindhorn's supporting cast does not pull off the same trick.
The likes of Andrea Riseborough and David Schofield are wasted in straight-man roles, while co-writer Simon Farnaby and Russell Tovey play parts which threaten to out-farce an already farcical story.
Speaking of Partridge earlier, Steve Coogan lends his name to the whole affair presumably for the sole purpose of lending his name to the whole affair. His character could be completely cut from the film without having any impact whatsoever.
I would definitely be happy to see Barratt in more things, but as far as Mindhorn goes, the promise has been sadly squandered.
Conor Brennan